Objave
Introducing the Kinoscope Programme of the 27th Sarajevo Film Festival
The Sarajevo Film Festival announces this year's Kinoscope programme. The programme will feature 17 films. Also this year, separate parts of the Kinoscope programme will be shown - Kinoscope Real and Kinoscope Surreal.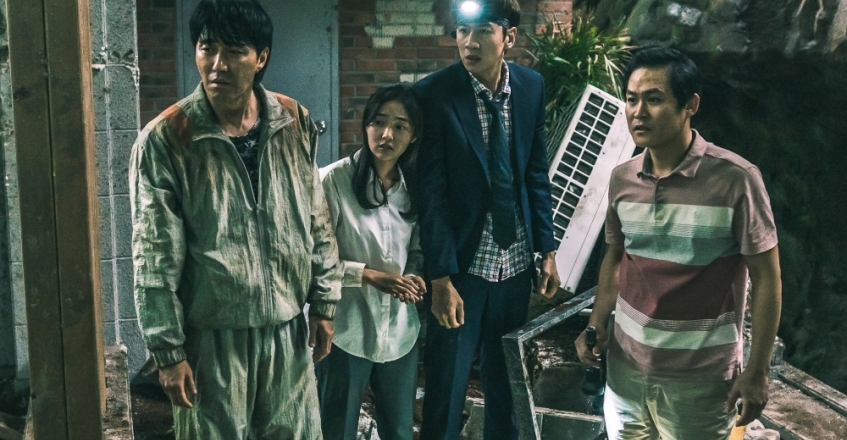 "Kinoscope is home to international films which propose bold visions, in particular those by emerging filmmakers from around the world. The Kinoscope programme is divided into three sections, corresponding to the times of the day of the first screenings at our beloved Meeting Point cinema. Kinoscope Real, premiering each day at noon, presents documentaries or fiction films that have a particular take on reality. Kinoscope, daily every evening, is dedicated to crossover arthouse films, while Kinoscope Surreal consists of late-night screenings of genre films", say Mathilde Henrot and Alessandro Raja, Kinoscope Programmers.
Kinoscope
FIRST DATE
United States, 2021, 103 min.
Director: Manuel Crosby, Darren Knapp
Cast: Tyson Brown, Shelby Duclos, Jesse Janzen, Nicole Berry, Samuel Ademola, Ryan Quinn, Angela Barber, Dave Reimer, Jake Howard, Samantha Laurenti, Scott Noble
Shy highschooler Mike finally summons the courage to ask out his badass neighbour Kelsey, only to realise he's missing a key element for a successful date – the car. Panicked and low on cash, he's conned into buying a beat-up '65 Chrysler. Mike's plan to win over Kelsey soon turns into a surreal misadventure when they are inexplicably targeted by a pair of cops, a criminal gang and a vengeful cat lady. A night fuelled by desire, bullets and burning rubber makes any other first date seem like a walk in the park.
LITTLE SOLANGE / PETITE SOLANGE
France, 2021, 86 min.
Director: Axelle Ropert
Cast: Jade Springer, Léa Drucker, Philippe Katerine, Grégoire Montana
Solange is a typical thirteen-year-old, curious and full of life, with perhaps the peculiarity of being overly sentimental and adoring her parents. But when her parents begin to argue, fight and slowly drift apart, the threat of divorce looms near and Solange's world begins to splinter. To keep her family together, she will worry, act out, suffer. It's the story of a young and overly tender teen who wants the impossible: for love to never end.
MAGNETIC BEATS / LES MAGNÉTIQUES
France, Germany, 2021, 98 min.
Director: Vincent Maël Cardona
Cast: Thimotée Robart, Marie Colomb, Joseph Olivennes
Brittany, 1980s. A bunch of friends yearning for excitement broadcast a free radio station from their hometown in the countryside. Jerome leads it with unique charisma while Philippe, the technical genius, lives in the shadow of Jerome, his big brother. When called for the military service, Philippe has no choice but to leave for West Berlin. He's determined to keep on broadcasting, but realizes that he just lived the last glorious moments of a world on the verge of extinction.
PETROV'S FLU / PETROVY V GRIPPE
Russia, Switzerland, France, Germany, 2020, 145 min.
Director: Kirill Serebrennikov
Cast: Chulpan Khamatova, Vlad Semiletkov, Semyon Serzin, Yulia Peresild, Aleksandr Ilyin, Yuri Kolokolnikov, Nikolay Kolyada, Ivan Dorn, Semyon Steinberg, Sergey Dreyden, Timofey Tribuntsev, Olga Voronina, Georgiy Kudrenko, Yuriy Borisov
A deadpan, hallucinatory romp through post-Soviet Russia. With the city in the throes of a flu epidemic, the Petrov family struggles through yet another day in a country where the past is never past, the present is a booze-fueled, icy fever dream of violence and tenderness, and where - beneath layers of the ordinary – things turn out to be quite extraordinary. Based on the novel "The Petrovs In and Around the Flu" by Alexey Salnikov.
PLAYGROUND / UN MONDE
Belgium, 2021, 72 min.
Director: Laura Wandel
Cast: Maya Vanderbeque, Günter Duret, Karim Leklou, Laura Verlinden
Belgium. Nowadays. Seven-year-old Nora and her big brother Abel are back to school. When Nora witnesses Abel being bullied by other kids, she rushes to protect him by warning their father. But Abel forces her to remain silent. Caught in a conflict of loyalty, Nora will ultimately try to find her place, torn between children's and adults' worlds.
SUPERIOR
United States, 2021, 99 min.
Director: Erin Vassilopoulos
Cast: Alessandra Mesa, Ani Mesa, Pico Alexander, Jake Hoffman, Stanley Simons
When Marian is on the run, she goes to the only place she knows is safe: her childhood home. She is greeted by her estranged sister, Vivian, a stay-at-home housewife struggling to conceive, her marriage on the verge of failing. Though the two are identical twins, they live opposite lives. Marian's mysterious return disrupts Vivian's small-town routine, and the sisters must learn to reconnect and reconcile. When Marian's haunting past finally catches up to her, separate worlds collide, catapulting both sisters into grave danger.
Kinoscope Real
ALEPH
United States, Croatia, Qatar, 2021, 91 min.
Director: Iva Radivojević
Cast: Anne Waldman, Guillermina Pico, Bouamama BenFarah, Žarko Laušević, The Sisters of St George Monastery, Irina Giri, Desire Marea
ALEPH is a travelogue of experience, a journey to find that place of connection, of clarity, of understanding across language, geography and experience. The thoughts, ideas and dreams of protagonists in ten countries spanning five continents are revealed through conversation, activity and contemplation. These collective stories serve as pieces of a puzzle that lead to what the Argentinean writer Jorge Luis Borges called "the unimaginable universe."
EL PLANETA
United States, Spain, 2021, 82 min.
Director: Amalia Ulman
Cast: Amalia Ulman, Ale Ulman, Chen Zhou, Nacho Vigalondo, Saoirse Bertram
EL PLANETA is a dark comedy that explores contemporary poverty, female desire and the always complicated filial relationships of mothers and daughters. Forced to return home after the death of her father, a daughter reconnects with her eccentric mother, hustling to maintain the semblances of their middle-class lifestyle in the face of an impending eviction. Over the course of the week, we watch as the daughter's hopes are tested as she attempts to use her sexuality as a means of escape. Meanwhile the mother grifts her way to certain security — the care of a jail cell.
FLEE
Denmark, France, Sweden, Norway, 2021, Colour, 90 min
Director: Jonas Poher Rasmussen
An extraordinary true story of a man, Amin, on the verge of marriage which compels him to reveal his hidden past for the first time. A secret he has been hiding for over twenty years threatens to ruin the life he has built for himself. He recounts his dramatic journey as a child refugee from Afghanistan to Denmark. Told mostly through animation, FLEE weaves together a stunning tapestry of images and memories to tell the deeply affecting and original story of a young man grappling with his traumatic past in order to find his true self and the meaning of home.
PRAYERS FOR THE STOLEN / NOCHE DE FUEGO
Mexico, Germany, Brazil, Qatar, 2021, Colour, 110 min
Director: Tatiana Huezo
Cast: Ana Cristina Ordóñez González, Marya Membreño, Mayra Batalla
In a solitary town nestled in the Mexican mountains, the girls wear boyish haircuts and have hiding places underground. Ana and her two best friends take over the houses of those who have fled and dress up as women when no one is watching. In their own impenetrable universe, magic and joy abound; meanwhile, their mothers train them to flee from those who turn them into slaves or ghosts. But one day, one of the girls doesn't make it to her hideout in time.
RADIOGRAPH OF A FAMILY
Norway, Iran, Switzerland, 2020, 81 min.
Director: Firouzeh Khosrovani
"I am the product of Iran's struggle between secularism and the Islamic ideology. My parents' love story takes us from the Shah era to the Islamic Revolution and the hardships during the Iran-Iraq War, up to the present day – all in our home in Tehran. In my childhood, I was constantly forced to choose between my parents; each day, I endured imposition from one side and acceptance from the other."
UNCLENCHING THE FISTS / RAZZHIMAYA KULAKI
Russia, 2021, 97 min.
Director: Kira Kovalenko
High in the mountains of North Ossetia, a small mining town of Mizur nestles between the sheer cliffs. Zaur moved his children Ada, Akim and Dakko here. Zaur is a strict father who prizes discipline above all and doesn't feel the difference between care and overprotection. His eldest son, Akim, already escaped from his father to work in Rostov, the closest city to Mizur. His younger brother, Dakko, has yet to decide what he wants from life, and their sister Ada is actively planning her escape. The return of her older brother Akim will illuminate the family's unspoken and unhealed traumas.
Kinoscope Surreal
BLOODY ORANGES / ORANGES SANGUINES
France, 2021, 102 min.
Director: Jean-Christophe Meurisse
Cast: Alexandre Steiger, Christophe Paou, Lilith Grasmug, Lorella Cravotta, Olivier Saladin, Fred Blin, Denis Podalydès, Blanche Gardin, Vincent Dedienne, Céline Fuhrer, Florence Janas, Anthony Paliotti, Patrice Laffont
France, today. Simultaneously, a retired couple overwhelmed by debt tries to win a dance contest, as the minister of economy is suspected of tax evasion, and a teenage girl encounters a sexual maniac, while a young lawyer attempts to climb the social ladder. When the shoe drops, the winner won't necessarily be the one we expected.
CENSOR
United Kingdom, 2021, 84 min.
Director: Prano Bailey-Bond
Cast: Niamh Algar, Michael Smiley, Nicholas Burns, Vincent Franklin, Sophia La Porta, Adrian Schiller, Clare Holman, Andrew Havill, Felicity Montagu, Danny Lee Wynter, Clare Perkins, Guillaume Delaunay, Richard Glover
Film censor Enid takes pride in her meticulous work, guarding unsuspecting audiences from the deleterious effects of watching the gore-filled decapitations and eye-gougings she pores over. Her sense of duty to protect is amplified by guilt over her inability to recall details of the long-ago disappearance of her sister, recently declared dead in absentia. When Enid is assigned to review a disturbing film from the archive that echoes her hazy childhood memories, she begins to unravel how this eerie work might be tied to her past.
SINKHOLE / SING-KEU-HOL
South Korea, 2021, 114 min.
Director: Ji-hoon Kim
Cast: Seoung-won Cha, Sung-kyun Kim, Kwang-soo Lee, Hye-jun Kim
Ordinary office worker Dong-won and his family move into a house he has bought after years of saving. Overwhelmed with happiness, he invites his colleagues to a housewarming party, but heavy overnight rain leads to a gigantic sinkhole that, in mere minutes, swallows up the entire apartment complex and the people inside. Hundreds of metres down the hole, Dong-won, his neighbour Man-su, and the unfortunate housewarming party guests must find their way out. Rain starts to pour down, filling the sinkhole with water, giving them very little time to get back to the surface.
THE SADNESS
Taiwan, 2021, 99 min.
Director: Rob Jabbaz
Cast: Regina Lei, Ying-Ru Chen, Lue-Keng Huang, Ralf Yen-Hsiang Chiu, Berant Zhu, Tzu-Chiang Wang, Wei-Hua Lan, Chi-Min Chou
After a year of combating a pandemic with relatively benign symptoms, a frustrated nation finally lets its guard down. The virus spontaneously mutates, giving rise to a mind-altering plague. The streets erupt in violence and depravity, as those infected are driven to enact the cruellest and most ghastly things they can think of. Murder, torture, rape and mutilation are only the beginning. A young couple is pushed to the limits of sanity as they try to reunite amid the chaos. The age of civility and order is no more. There is only "The Sadness."
TITANE
France, Belgium, 2021, 108 min.
Director: Julia Ducournau
Cast: Vincent Lindon, Agathe Rousselle, Laïs Salameh, Garance Marillier
Following a series of unexplained crimes, a father is reunited with the son who has been missing for 10 years. Titane : A metal highly resistant to heat and corrosion, with high tensile strength alloys.
The 27th Sarajevo Film Festival will take place 13-20 August 2021.