News
The sixth edition of Avant Premiere Series with six drama series from four countries of the region
Festival goers will get previews of the first two episodes of six highly anticipated regional drama series.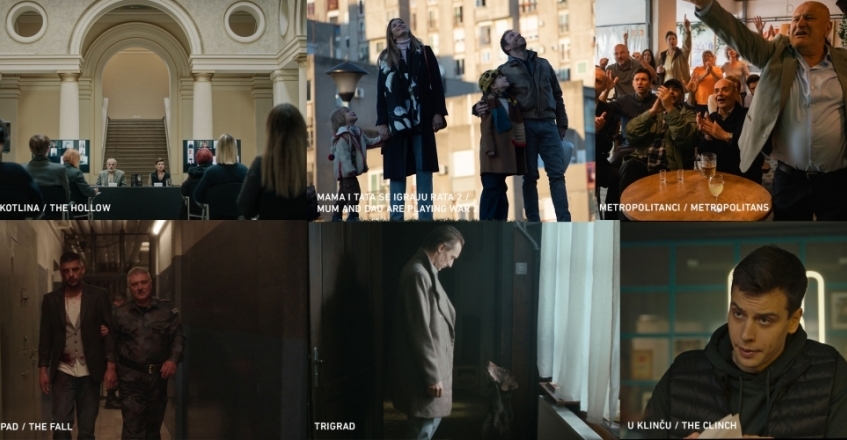 TV series shown in previous editions of Avant Premiere Series, a programme of the Sarajevo Film Festival, recorded success on the domestic and international markets. Some of them were nominated by the expert jury for this year's Hearts of Sarajevo for TV Series Awards, which we are eagerly awaiting.
This year, the Avant Premiere Series programme of the 28th Sarajevo Film Festival presents a careful selection of recently completed regional drama series productions. Festival goers will get previews of the first two episodes of six highly anticipated regional drama series. Each of these high-end productions is characterized by an intriguing plotline and an exceptional star-studded regional cast. Drama series presented in the Avant Premiere Series programme are competing for the UniCredit Audience Award.
"Regional production of high-end series is on the rise. The result is also visible in this year's selection, the sixth edition of Avant Premieres, where we proudly present a record number of six series from four countries in the region. They are different thematically, stylistically and in terms of genre. However, whether you are a fan of crime, comedy, mystery or drama, you will surely find at least one series in this selection that will delight you. You will eagerly wait for the fall to see the other episodes," said Tina Hajon, a programmer of the Avant Premiere Series.
Press corners will be held every day at 4 p.m. at the Festival Square.

METROPOLITANS / METROPOLITANCI
CR I 2022 I 104' I DRAMA SERIES, S01E01, S01E02
Creator: Dario Vince
Cast: Rene Bitorajac, Dejan Aćimović, Dijana Vidušin, Nataša Janjić, Linda Begonja, Siniša Popović, Roko Sikavica, Filip Juričić, Barbara Nola, Ljubica Jović
Screenplay: Dario Vince, Saša Podgorelec
Producer: Dario Vince
Director: Igor Šeregi
Production Company: Ring produkcija d.o.o. for HRT

A year and a half after a strong earthquake and the pandemic starting, tenants from the damaged old city center move to the outskirts of the city. Tensions rise between people irritated by their own differences and by change - mostly between pacifist Petar, propagating love, and pragmatic Pavić, an ambitious opportunist.

MUM AND DAD ARE PLAYING WAR 2 / MAMA I TATA SE IGRAJU RATA 2
SR I 2022 I 110' I DRAMA SERIES, S02E01, S02E02
Creator: Gordan Kičić
Cast: Gordan Kičić, Nina Janković Dičić, Lena Lazović, Nebojša Ilić, Vojin Ćetković, Jelena Gavrilović, Amila Terzimehić, Katrina Gojković, Aleksej Bjelogrlić, Aleksandar Đurica, Stefan Bundalo, Tijana Marković
Screenplay: Gvozden Đurić, Marko Manojlović, Gordan Kičić
Producers: Gordan Kičić, Snežana van Houwelingen
Directors: Gordan Kičić, Mina Đukić, Marko Manojlović
Production Company: Filmkombajn, RTS

Veljko gets the news his father has died. Upon returning to Belgrade many family truths are uncovered and he stays longer than he expected. The series follows the emotional turmoil and crisis of the family, culminating in some serious lifestyle changes.

THE CLINCH / U KLINČU
SR I 2022 I 100' I DRAMA SERIES, S01E01, S01E02
Creators: Aljoša Ćeranić, Miloš Avramović
Cast: Mihajlo - Vojaž Veruović, Branka Katić, Nikola Kojo, Đorđe Mišina, Ivana Zečević, Anita Ognjanović, Teodora Dragićević, Svetlana Bojković, Sergej Trifunović, Nebojša Dugalić, Miloš Petrović
Screenplay: Ivan Stančić, Dušan Bulić, Filip Vujošević, Slaviša Pavlović
Producers: Aljoša Ćeranić, Miloš Avramović
Directors: Danilo Bećković, Nebojša Radosavljević
Production Company: Režim /

A twenty year old man tries to balance between his father's expectations and mother's ambition, while he tackles his own hard to attain goals and a doomed relationship during a crucial turning point in his life.

THE FALL / PAD
SR I 2022 I 100' I DRAMA SERIES, S01E01, S01E02
Director: Bojan Vuletić
Cast: Milan Marić, Jovan Veljković, Krešimir Mikić, Dejan Cicmilović, Dubravka Drakić, Petar Novaković, Ljuba Bandović, Milica Janevski, Anđela Jovanović, Miodrag Krčmarik, Kemal Rizvanović, Boris Isaković, Vahid Džanković, Izudin Bajrović, Svetozar Cvetković, Dragan Marinković, Mima Karadžić
Screenplay: Bojan Vuletić, Petar Mihajlović
Producer: Ivana Miković
Production Company: Firefly Productions; Telekom Srbija

As he became an accomplice in a double homicide, a young and popular actor ends up between bars at a notorious prison in Montenegro, where the rules are a lot more different than on the outside. Based on a true story.

THE HOLLOW / KOTLINA
BH I 2022 I 100' I DRAMA SERIES, S01E01, S01E02
Creators: Danis Tanović, Amra Bakšić Čamo
Cast: Feđa Štukan, Boris Ler, Ida Keškić, Mario Knezović, Vedrana Božinović, Izudin Bajrović, Admir Šehović, Alban Ukaj
Screenplay: Amra Bakšić Čamo, Nikola Kuprešanin, Adnan Lugonić, Danis Tanović
Producers: Sedin Kahriman for BH Telecom and BH Content Lab, Amra Bakšić Čamo, Adis Đapo for SCCA/pro.ba
Directors: Danis Tanović, Aida Begić
Production Company: SCCA/pro.ba for BH CONTENT LAB, BH Telecom

After a body is found in the National History Museum, senior inspector Edib Pašić dives deep into todays' Sarajevo searching for a precious missing artifact, thus proving to himself that the city he once loved and never found the strength to leave, still exists.

TRIGRAD
SL I 2022 I 100' I DRAMA SERIES, S01E01, S01E02
Director: Sonja Prosenc
Cast: Marko Mandić, Katarina Stegnar, Gaber Trseglav, Mirjam Korbar, Jernej Kogovšek
Screenplay: Gregor Fon, Nina Zupančič, Sonja Prosenc
Producer: Jani Virk
Production Company: RTV Slovenia

When a foreigner arrives to an isolated village in the idyllic Alps, business interests and greed clash with ancient beliefs in the sanctity of the forest, whose "forbidden" part he now owns.


The 28th Sarajevo Film Festival will be held from the 12th to the 19th of August, 2022.

Tickets
Tickets Online tickets for the Sarajevo Film Festival Programmes are on sale from today, August 1 at 3 p.m via the Sarajevo Film Festival website (www.sff.ba). By paying for tickets with UniCredit Mastercard® cards via the online platform, you get a 30% discount.
Individual tickets are available starting from August 8, 2022 at 10:00 a.m., at the Main Box Office (Bosanski kulturni centar, Branilaca Sarajeva 24).