Objave
Introducing the Competition Programme – Documentary Film of the 28th Sarajevo Film Festival
In the Competition Programme – Documentary Film of the 28th Sarajevo Film Festival, there are 22 films according to the choice of the programmer Rada Šešić. In Sarajevo, eight films will have world premieres, three international, one European, nine regional premieres and one B&H premiere.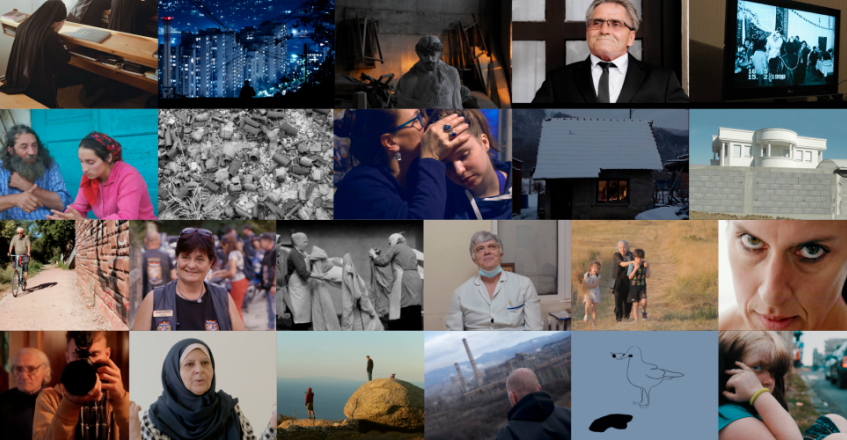 "Our program celebrates the richness of documentary forms: from the exciting cinema-verite styles where the camera is a "fly on the wall" to the poetic, intimate diary documentaries and complex narratives that celebrate the creative use of archival footage. We also have an experimental film that explores new manners of using cinematic language and films that efficiently and with great imagination combine animation with documentary textures. Seeing some new authors and talents enter the documentary world scene is wonderful. Our program puts quite a large number of debutants under the limelight, and what I also proudly emphasize is a big presence of female directors and producers. We have three compelling films from Ukraine, the country struggling to survive, where people are dying every day, suffering, and despite all that, trying to create something valuable and share it with the world. Part of these films was in the process before the war and only finished now, but one of them was made very recently, during the months of the war. We also have new authors from Bosnia and Herzegovina, director Farah Hasanbegović and producer Amra Hadžihafizbegović Deović, who are just entering the professional scene. Their commitment to the documentary is already evident" says Šešić about this year's selection.

We present 22 films in the Competition Program - Documentary film of the 28th Sarajevo Film Festival, which are in competition for awards:
HEART OF SARAJEVO FOR BEST DOCUMENTARY FILM
Award in the amount of 4,000 €, sponsored by Government of Switzerland.
HEART OF SARAJEVO FOR BEST SHORT DOCUMENTARY FILM
Award in the amount of 2,000 €
HUMAN RIGHTS AWARD
Award in the amount of 3,000 €, sponsored by Kingdom of the Netherlands.
SPECIAL JURY PRIZE
Award in the amount of 2,500 €

WORLD PREMIERES

DIARY OF A BRIDE OF CHRIST / TSCHODENNYK NARECHENOI CHRISTA
Ukraine, 2021, 90 min.
Director: Marta Smerechynska

Director Marta Smerechynska approaches her sister Nastia after six years of silence. She films Nastia's life in a new home – a convent of the Brides of Christ located in Western Ukraine.

LIGHTS OF SARAJEVO / SVJETLA SARAJEVA
Bosnia and Herzegovina, 2022, 68 min.
Director: Srđan Perkić

Sarajevo 1969–2019. The fiftieth anniversary of the legendary Skenderija Hall, a temple of music and sport, famed far and wide. Half a century of history of this Sarajevo institution is told from the point of view of Sejo Sexon, leader of the band Zabranjeno Pušenje.

LITURGY OF ANTI-TANK OBSTACLES
Ukraine, USA, 2022, 12 min.
Director: Dmytro Sukholytkyy-Sobchuk

Ukrainian reality is divided into two periods - before and after the war. In the nationwide resistance, every citizen tries to be helpful. Ukrainians change professions and adapt to the wartime needs.

PAYING A VISIT TO FORTUNA / FORTUNA VENDÉGEI
Hungary, Croatia, 2022, 74 min.
Director: Mátyás Kálmán

Anikó and Laci are a middle-aged couple living in a small town in Hungary. Before winning two million euros in 2013, their circumstances were miserable.

SHADOWED BY THE PLANE TREE / ÇINAR AĞACININ KÖLGƏSINDƏ
Azerbaijan, 2022, 18 min.
Director: Aynur Elgunesh

Twenty-eight years after she and her family were displaced, Aynur Elgunesh is setting off to visit Aghdam in Azerbaijan. She comes across fragments of stone: among them, she searches for traces of her past, of a childhood gone with the war.

THE CHALICE. OF SONS AND DAUGHTERS / O TAHTAI. SAVENDAR TAI SEIANDAR
Romania, 2022, 83 min.
Director: Cătălina Tesăr, Dana Bunescu
Peli and Nina are a couple from a traditional Roma community who were married by arrangement and are parents to a little girl. However, local custom posits that a marital union can only endure if the couple conceive a boy who can later inherit the family's badge – the chalice (tahtai).

THE FILM FACTORY / TVORNICA FILMOVA
Croatia, 2022, 15 min.
Director: Silvestar Kolbas

An essay film about photography, told through still photographs with the passage of time registered in the aging of the photographic materials.

TOO CLOSE
Romania, Hungary, 2022, 85 min.
Director: Botond Püsök

TOO CLOSE is an intimate portrait of Andrea, a single mother in her forties, who faced every woman's worst fear. It all began as a fairy-tale romance when she fell in love with a charming man from a well-respected local family.

INTERNATIONAL PREMIERES

BABAJANJA
Croatia, 2022, 13 min.
Director: Ante Zlatko Stolica

BABAJANJA is a short essay film with horror elements. Going back to the past, the narrator tries to find the mysterious woman he was scared of as a boy.

RETREAT
North Macedonia, Germany, 2022, 30 min.
Director: Anabela Angelovska

Over the past twenty years, thousands of young Macedonian women and men were recruited to work in the kitchens and laundries of US military bases in Afghanistan and Iraq. With the withdrawal of the US troops from Afghanistan last summer, the workers returned home.

WE, ... COMPOSITION / WIR, ... KOMPOSITION
Kosovo, Germany, 2022, 15 min.
Director: Visar Jusufi

The director asks in a very personal way whether one should still dream.

EUROPEAN PREMIERE

BIGGER THAN TRAUMA / VEĆE OD TRAUME
Croatia, 2022, 91 min.
Director: Vedrana Pribačić

Twenty-five years after the Croatian War of Independence, its women survivors have yet to heal. Several women go through a three-year therapeutic programme.

REGIONAL PREMIERES
ANOTHER SPRING / JOŠ JEDNO PROLEĆE
Serbia, France, Qatar, 2022, 90 min.
Director: Mladen Kovačević

ANOTHER SPRING is a "medical thriller" reconstructed from fifty-year-old archival footage taken place in the spring of 1972, when the smallpox virus was brought into Yugoslavia from a bazaar in Iraq.

A PROVINCIAL HOSPITAL / EDNA PROVINTSIALNA BOLNITSA
Bulgaria, Germany, 2022, 107 min.
Director: Ilian Metev, Ivan Chertov, Zlatina Teneva

Kyustendil, a sleepy town in the Bulgarian mountains, has been hard hit by Covid. Banter can often be heard in the corridors, but death is never far. Many patients live in constant fear of deteriorating quickly and being sent "upstairs."

ATONAL GLOW / ATONALURI GABRZKINEBA
Georgia, 2022, 67 min.
Director: Alexander Koridze

History is made up of political, social, cultural, and other events, which influence and shape society. As times goes by, most of these events are buried in the past and forgotten. But some, like the emergence of brightly shining prodigies, withstand the test of time and space.

BEAUTY OF THE BEAST
Hungary, Serbia, 2022, 47 min.
Director: Anna Eszter Nemes

The appearance of female bodybuilders makes them outcasts. Diving under the glitter, this film looks for the reasons lying behind these women's lifestyles.

FRAGILE MEMORY
Ukraine, 2022, 85 min.
Director: Igor Ivanko

Soviet cinematographer Leonid Burlaka worked at Odessa Film Studio in the 60s. Today he's in his 80s and diagnosed with Alzheimer's. As his memory fades away, his grandson and young filmmaker, Igor follows the tracks that Leonid left behind.

LIVING TOGETHER / ZUSAMMENLEBEN
Austria, 2022, 90 min.
Director: Thomas Fürhapter

How is the culture of Vienna imparted to migrants via integration courses? LIVING TOGETHER accompanies new immigrants from various backgrounds during their first steps in Vienna.

MICROBIOME
Greece, 2021, 27 min.
Director: Stavros Petropoulos

The limits of intrusion into the peaceful lives of the inhabitants of the island of Ikaria are being tested by the quest of a group of scientists to find the secret of a long and healthy life.

NO PLACE FOR YOU IN OUR TOWN / NIAMASH MIASTO V NASHIA GRAD
Bulgaria, 2022, 81 min.
Director: Nikolay Stefanov

NO PLACE FOR YOU IN OUR TOWN pulls us into the heads of the football hooligans from the most hostile city in Bulgaria — Pernik.

RIBS / REBRA
Bosnia and Herzegovina, Hungary, Belgium, Portugal, 2022, 8 min.
Director: Farah Hasanbegović

In a space halfway between animation and whispered confession, this coming-of-age melodrama seeks to discover the origin of a constant feeling of guilt.

B&H PREMIERES

MUSEUM OF THE REVOLUTION / MUZEJ REVOLUCIJE
Serbia, Croatia, Czech Republic, 2021, 91 min.
Director: Srđan Keča

Meant to "safeguard the truth" about the Yugoslav people, the the 1961 plan to build a grand museum in Belgrade never went beyond the construction of the basement. The derelict building now tells a very different story than that envisioned by the initiators sixty years ago.
The 28th Sarajevo Film Festival will be held from the 12th to the 19th of August, 2022.