Objave
Jury of the Competition Programme - Documentary Film of 27th Sarajevo Film Festival
Film Consultant Cecilia Lidin, General Delegate of FIDMarseille – International Cinema Film Festival Jean-Pierre Rehm and Director Mila Turajlić will serve on the Jury of the Competition Programme - Documentary Film of the 27th Sarajevo Film Festival.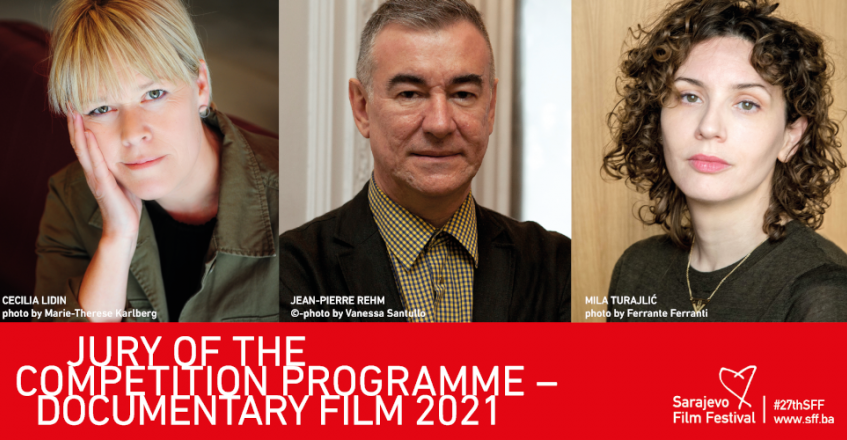 Cecilia Lidin
Film Consultant, Denmark
Cecilia Lidin has more than twenty years' experience in the field of international development and financing of documentaries. After starting as a loans officer in the first MEDIA programmes office DOCUMENTARY followed by a position promoting short and documentary films at Filmkontakt Nord, Lidin joined the EDN team in 1998, where for more than a decade she was responsible for a large number of EDN workshops and events as an organiser, tutor and moderator. From 2006 to 2009, she was Artistic Director of the Odense International Film Festival and from 2009 to 2011, she co-led the EDN with Hanne Skjødt. From 2011 to 2015, Lidin was the documentary consultant at the Swedish Film Institute, and from 2015 through 2020 she held the same position at the Danish Film Institute. She was one of the programmers of the documentary section at Nordisk Panorama in 2020 and 2021, and continues to work as a freelance curator and consultant.
Jean-Pierre Rehm
General Delegate of FIDMarseille – International Cinema Film Festival
Jean-Pierre Rehm, a graduate of the École Normale Supérieure and a student of modern literature and philosophy, taught the history and theory of art and film at various art schools before moving to the French Ministry of Culture to curate exhibitions. He writes regularly for various media, including exhibition catalogues, artist and filmmaker monographs, with subjects including Roee Rosen, Tsaï Ming-liang, Mark Lewis, William Eggleston, Jimmie Durham, Peter Friedl, Jacques Rozier and Isidore Isou, among others, and art and cinema periodicals like Cahiers du Cinéma, Cinéma and Trafic, etc. Since 2001, he has been Director of the International Film Festival of Marseille, FIDMarseille.
Mila Turajlić
Director, Serbia
Mila Turajlić is award-winning director. Her documentary THE OTHER SIDE OF EVERYTHING won thirty-two awards, among them the prestigious IDFA Award for Best Documentary Film. The film was also nominated for the LUX Award of the European Parliament. Her previous film, CINEMA KOMUNISTO, had its premiere at the Tribeca Film Festival and won sixteen awards, including the FOCAL Award for Creative Use of Archival Footage. In 2018, she was commissioned by the Museum of Modern Art in New York to create video installations for a landmark exhibition on Yugoslav architecture and NOB monuments. In 2020, Turajlić received the Chicken&Egg award and became a member of the American Academy of Motion Picture Arts and Sciences.
The 27th Sarajevo Film Festival will be held from 13-20 August 2021.