News
Eight film projects in development within the focus of the CineLink workshop in Slano
The industrial department of the Sarajevo Film Festival, CineLink Industry Days, will organize a CineLink workshop in Slano (Croatia) from 20 to 24 June, focusing on eight film projects in development.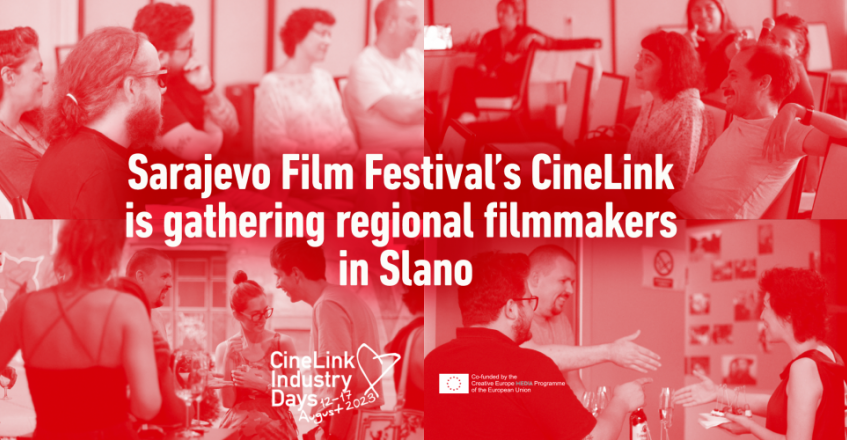 The CineLink team in Slano will focus on improving production values by connecting projects and film professionals, and will offer authors assistance through extensive script development sessions.

This year's CineLink Co-Production Market selection consists of eight projects from the workshop in Slano. CineLink Co-Pro Market 2023, during the 29th Sarajevo Film Festival, present a total of 11 in-development feature film projects in front of more than 150 producers, distributors, and sales agents from more than 40 countries.

While the Ponta Lopud Festival is being held nearby, participation in the workshop in Slano will give participants the opportunity to interact and network with film professionals and renowned guests. They will also attend the masterclass that will be held at the Ponta Lopud Festival by Ruben Östlund, two-time winner of the Palme d'Or at the Cannes Film Festival and last year's winner of the Honorary Heart of Sarajevo Film Festival.

This year's list of the CineLink Co-Production Market consists of established filmmakers, as well as those who are making their debut with feature films. CineLink welcomes the award-winning alumni of the Sarajevo Film Festival, including Zeynep Dilan Süren, Dušan Kasalica and Gabriel Tzafkas. The list also includes authors who have premiered their previous films at renowned film festivals, such as Erenik Beqiri with THE VAN, who was nominated at the Cannes Film Festival for Best Short Film, and won the Best Short Film Award at the Les Arcs European Film Festival, Olivér Rudolf with the film FONICA M-120, nominated for the Cinefondation Award at the Cannes Film Festival 2021, Marius Olteanu with the feature film MONSTRI, premiered at Berlinale 2019 and Kateryne Gornostai with the film STOP-ZEMLIA, which premiered at Berlinale in 2021. CineLink would like to welcome new and most promising authors from the region, including Josip Lukić, Đorđe Vojvodić, Ana Kitanova and Brigita Kanyaro.

Sarajevo Film Festival and CineLink Industry Days have built a reputation by diligently encouraging and discovering talent through various programs. Among the successful film achievements created with CineLink Industry Days, the film A SAFE PLACE stands out, from director Juraj Lerotić, who won two Hearts of Sarajevo awards at last year's Sarajevo Film Festival: for Best Film and Best Actor.

CineLink Industry Days for Co-Production Market offers a significant number of awards through cooperation with regional film funds such as the Slovenian Film Centre, the Film Centre of Serbia, and the Film Centre of Montenegro, as well as international partners: Eurimages and Arte. The diverse range of accolades presented at CineLink Industry Days makes it a stable starting platform for international and regional success.

The 29th Sarajevo Film Festival will be held from 11 to 18 August 2023.