News
Competition Programme – Short Film Jury and selection of the 27th Sarajevo Film Festival
Director, producer and programmer Stefan Ivančić, director Hella Wenders and actress Sara Luna Zorić will serve on the jury of the Competition Programme - Short Film of the 27th Sarajevo Film Festival. They will decide the winner of the Heart of Sarajevo for Best Short Film, which will be eligible for consideration in the Animated Short Film / Live Action Short Film categories of the Academy Awards®.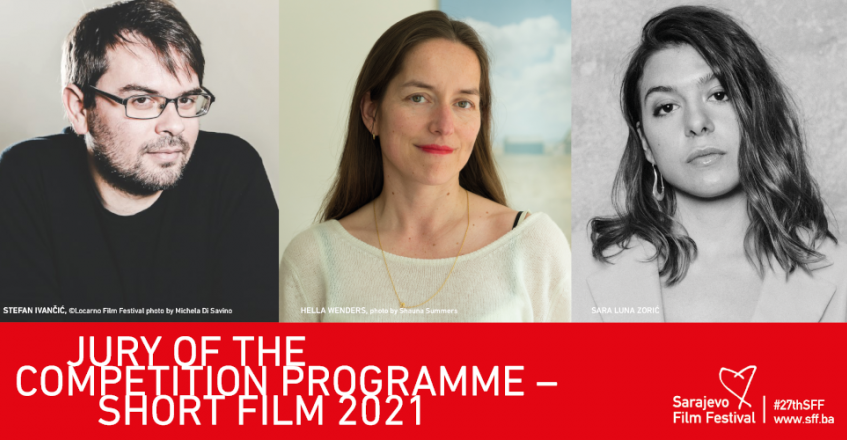 Stefan Ivančić
Director, Producer, Programmer, Serbia
Stefan Ivančić is a film director, producer, and programmer. He completed his bachelor and Master's studies in film directing at the Faculty of Dramatic Arts in Belgrade. His short films have been screened at the Festival de Cannes, the San Sebastián International Film Festival, the International Film Festival Rotterdam, FIDMarseille and Visions du Réel in Nyon, among other festivals. As a producer, he worked on the Ognjen Glavonić's multi-award-winning feature film THE LOAD, which had its premiere at Cannes, and he co-produced the Montenegrin film YOU HAVE THE NIGHT by Ivan Salatić, which was presented in the Critics' Week at the Venice International Film Festival. Ivančić works as a programmer for both the Locarno Festival and the Belgrade Auteur Film Festival. He is a member of the European Film Academy (EFA).
Hella Wenders
Director, Germany
Hella Wenders, after completing MA studies in film and American literature, began studies at the German Film and Television Academy in Berlin. Her diploma film, the documentary BERG FIDEL, won awards at several international film festivals, and was screened in cinemas, universities and schools across Germany. Its sequel, SCHOOL, SCHOOL – THE TIME AFTER BERG FIDEL, had its premiere at the Max Ophüls Prize Film Festival. With Luca Lucchesi, she filmed A BLACK JESUS, which premiered in cinemas in 2021.
Sara Luna Zorić
Actress, Netherlands
Sara Luna Zorić is an actress with Bosnian and Serbian roots born in Amsterdam. The cinema of the former Yugoslavia was an integral part of her upbringing, and her parents encouraged her to learn the region's language and discover its culture. She first participated at the Sarajevo Film Festival in the Talents Sarajevo programme in 2019. Since then, she has taken roles in Dutch and international television series, and short and feature-length films.
COMPETITION PROGRAMME – SHORT FILM 2021
Ten titles selected by Elma Tataragić will be screened in the Competition Programme – Short Film. The selection features four world and six regional premieres.
WORLD PREMIERES
EVERYTHING AHEAD / SVE ŠTO DOLAZI
Croatia, France, 2021, 24 min.
Director: Mate Ugrin
Branka is a young caretaker who has recently moved to an island to look after an elderly woman. After the harsh winter is over and her job is finished, Branka decides to stay on the island for the summer season. She gets a job in tourism, but the pay is meagre and the job exhausting, making it just a temporary solution.
FROM THE BALCONY
Greece, 2020, 13 min.
Director: Aris Kaplanidis
Lina, a middle-aged lady who never leaves the balcony of her house, intervenes in everything that happens within her visual field. People passing by in front of her building, neighbors from the apartments across the street, everyone realize that whatever they do, Lina is watching day and night and intervenes. Some are surprised by her attitude, but most are annoyed by her constant gaze on them. Until Lina loses her son in a car accident and does not go out to her balcony ever since. The neighborhood is not the same anymore.
HEARTBREATH / TENGNEFES
Azerbaijan, 2021, 15 min.
Director: Azer Guliev
An ordinary new year, ordinary days, and an ordinary friendly request. Against the backdrop of a crisis in human nature, the heroine's mix of feelings and pain as she comes face-to-face with a commitment takes her into a new circle of existence in her environment.
SOLO MODE
North Macedonia, Turkey, United States, 2021, 30 min.
Director: Tamara Kotevska
Inspired by the COVID 19 pandemics, a worried husband and father invents a professional family board game so he can strengthen the bonds of families in times of pandemics, but instead, he ends up locking his family members in separate rooms and creates "a board game for one".
REGIONAL PREMIERES
BRUTALIA, DAYS OF LABOUR
Belgium, Greece, 2021, 26 min.
Director: Manolis Mavris
Perfectly identical girls, dressed in military uniforms, work day and night. A matriarchal family. An oligarchical society. What would happen if we replaced bees with humans? Anna, a worker bee still in the training stage, observes the universe of the hive in which she lives.
DISPLACED / PA VEND
Kosovo, 2021, 15 min.
Director: Samir Karahoda
In post-war Kosovo, driven by the ambition of keeping their beloved sport alive, two local players wander from one obscure location to another carrying with them the only possession of the club: their tables.
INTERCOM 15 / INTERFON 15
Romania, 2021, 22 min.
Director: Andrei Epure
Several residents discover an unconscious woman lying in front of the block. Even though she lives on the third floor, nobody knows her name. While waiting for rescue, the neighbours reflect on her life and their own.
NORTH POLE / SEVEREN POL
North Macedonia, Serbia, 2021, 15 min.
Director: Marija Apchevska
A misty field, a crowded locker room. Margo belongs to neither. Maybe if she loses her virginity, she will finally find her place.
PENALTY SHOT / KAZENSKI STREL
Croatia, Slovenia, Austria, 2021, 15 min.
Director: Rok Biček
Two best friends spend an afternoon on a football field, dreaming of making it onto the local footbal team. But dreams come with a price: when a group of older boys interrupts their game, one of them will see it as an opportunity to prove himself, while the other one senses something more sinister at play.
STEAKHOUSE
Slovenia, Germany, France, 2021, 10 min.
Director: Špela Čadež
The steak has been marinating for a few days now. The pan is heated. Franc's stomach is rumbling. But Liza's co-workers surprise her with a birthday party. Will she be home on time?
The 27th Sarajevo Film Festival will take place 13-20 August 2021.