News
Nine projects selected in the second round for the CineLink Co-Production Market
Sarajevo Film Festival & CineLink Industry Days announce the second round of film projects selected to participate at the CineLink Co-production Market 2019.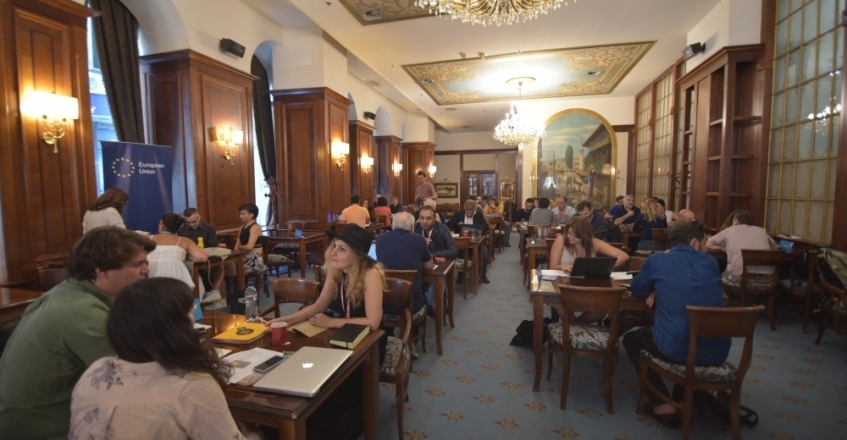 Selected projects will join 8 projects that have been developed at CineLink Project Development Workshop in April.
Amra Bakšić Čamo, Head of CineLink said: ''17 projects were selected in two phases. The first phase featured eight feature film projects in early development, while the projects in the second phase are closer to completion. These 17 projects are marked by their diversity – from the authors' styles, age, experience, to their genre and forms. All 17 projects are promising an exciting future for regional cinema''.
The nine projects selected in the second round for the Co-Production Market taking place during the 25th Sarajevo Film Festival are:
A HOPE
Director: Ümit Köreken
Writer: Ümit Köreken, Nursen Çetin Köreken
Producer: Nursen Çetin Köreken, Ümit Köreken
Production company: Drama Yapım Film Medya
Countries: Turkey, Germany
Umut (35), a famous actor of Turkish origin living in Germany, has to confront his past and has a reckoning with his mother when she comes to Germany after twenty years of resentment.
DEATH OF THE LITTLE MATCH GIRL
Director: Goran Kulenović
Writer: Goran Kulenović, Zoran Ferić
Producer: Ivor Hadžiabdić, Antun Bahat
Production company: Livada Produkcija
Country: Croatia
The story of a pathologist, a returnee to an Croatian island, who gets involved in the investigation of the mysterious murder of a Romanian prostitute.
DEMOCRACY WORK IN PROGRESS

Director: Mihály Schwechtje
Writer: Mihály Schwechtje
Producer: Genovéva Petrovits
Production company: Kino Alfa
Country: Hungary
Róbert Mravik is a driving examiner. His life turns upside down when one of his examinee, the political activist Júlia Polgár refuses to pay him the usual bribery money for getting her driving licence. Democracy Work in Progress is the next feature film project of Mihály Schwechtje. It's a black comedy about everyday corruption.
FOREVER HOLD YOUR PEACE

Director: Ivan Marinović
Writer: Ivan Marinović
Producer: Marija Stojanović, Ivan Marinović
Production company: Adriatic Western, SENSE Production
Countries: Montenegro, Serbia
Dragana gives up marrying Momo two days before the date. His dangerously stubborn father forces the disastrous wedding into happening.
MIGNON
Director: Sofia Georgovassili
Writer: Sofia Georgovassili
Producer: Vasilis Chrysanthopoulos, Irina Andreea Malcea
Production company: PLAYS2PLACE, Luna Film
Countries: Greece, Romania
A coming of age story of two girls in a 90's department store that unfolds into an unexpected game of power.
MOTHER MARA
Director: Mirjana Karanović
Writer: Mirjana Karanović, Ognjen Sviličić, Maja Pelević
Producer: Snezana van Houwelingen
Co-producer: Damir Ibrahimovic
Production companies: This and That Productions, Deblokada
Countries: Serbia, Bosnia and Herzegovina
Mara seems to live the perfect life until her son commits suicide. She realises this is a wake-up call and that she has to take responsiblity for it.
THE HAPPIEST MAN IN THE WORLD or LESSONS IN LOVE
Director: Teona Strugar Mitevska
Writer: Elma Tataragić, Teona Strugar Mitevska
Producer: Labina Mitevska
Production company: Sisters and Brother Mitevski
Country: North Macedonia
Imagine after a trauma having to face your nemesis directly in the eyes. Imagine after a traumatic experience meeting your enemy, sitting besides, and perhaps even falling in love. As Asja searches for love, Zoran looks for forgiveness while all are trapped in the question: is there life after war in Sarajevo 2020, 25 years after the war.
TRUST
Director: Emanuel Parvu
Writer: Alexandru Popa, Emanuel Parvu
Producer: Miruna Berescu
Executive Producer: Mirona Radu
Production company: FAMart Association
Country: Romania
Nowadays, a young couple of adolescents gets their respective mothers mistakenly killed.