News
The seventh edition of the Avant Premiere Series programme premieres six drama series from the region
This year's 29th Avant Premiere Series of the Sarajevo Film Festival presents carefully selected recently produced regional drama series.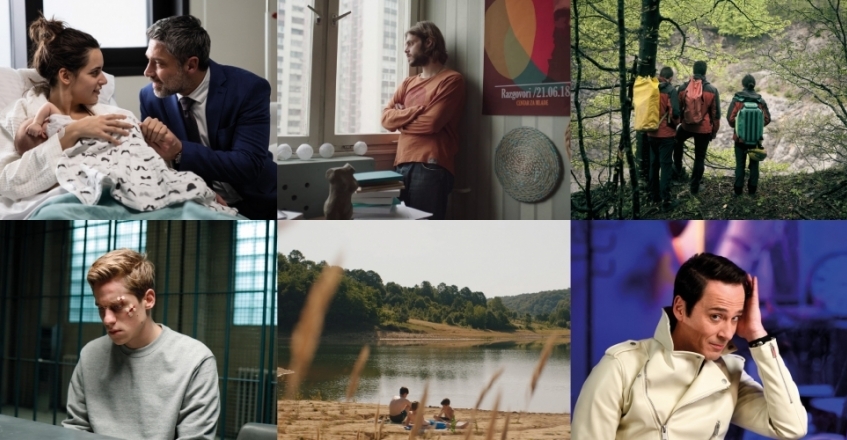 The audience of the Festival will be able to watch avant premieres of episodes of six long-awaited regional drama series and attend Press Corners at the Festival Square where they will have the opportunity to meet great actors and crews of all series, and get to know them better through live talks.
"Regional production of high-end series is on the rise. The result is also visible in this year's selection, the seventh edition of the Avant Premiere Series, where we proudly present six series from the region, which are completely different in form, genre, rhythm and theme, but all of them are extremely high production values and original author's expression, so I believe that this year's selection is extremely interesting. For fans of the series, this is a unique opportunity to see on the big screen the premiere episodes from these six regional series, which we are just watching on small screens in the upcoming autumn and winter season. Some series will keep us tense, some will make us think, and some will make us laugh a lot."- Tina Hajon, programme manager.
Feature series shown on previous editions of the Avant Premiere, the programme of the Sarajevo Film Festival, have achieved success in the domestic and international markets. Some of them have been nominated by an expert jury for this year's Heart of Sarajevo Awards for the TV series of the 29th Sarajevo Film Festival.

Introducing the Avant Premiere Series Programme:
FRUST
Serbia, Hungary, Bosnia and Herzegovina, 2023, 50 min.
Creators: Srđan Vuletić, Gábor Krigler
Director: Danis Tanović
Cast: Deni Mešić, Dunja Stojanović , Ermin Sijamija, Alban Ukaj, Anđela Jovanović, Faruk Hajdarević, Maja Izetbegović, Sanela Krsmanović, Adnan Goro, Aleksandar Dimitrijević
Vedran is an unsuccessful young writer who struggles to receive any kind of attention or appreciation. When he accidentally shoots a petty criminal who has been terrorizing his neighbourhood, the unknown killer is publicly acclaimed as a righteous vigilante. Overnight, he becomes a local superstar. Yet, unable to reveal his identity, Vedran's frustration only grows. He arrives at a life-changing question – whether or not to continue his clandestine crusade.
SMASHING IT / PRINC IZ ELEJA
Bosnia and Herzegovina, 2023, 52 min.
Creators: Amra Bakšić Čamo, Elma Tataragić, Dušan Vranić, Enes Zlatar
Director: Alen Šimić
Cast: Alen Muratović, Nadine Mičić, Mediha Musliović, Mirvad Kurić, Moamer Kasumović, Džana Pinjo, Mario Drmać, Emir Zumbul Kapetanović, Slaven Vidak, Sabit Sejdinović
Miki returns from Los Angeles with a beautiful American woman and an idea in his head that, back home, he is famous. Nobody in his hometown remembers him, however, even though a local TV channel runs his old music videos on a loop. Carried away, Miki buys the channel and starts to manage a small crew of television (non)workers.
THE ABCS OF LIFE / AZBUKA NAŠEG ŽIVOTA
Serbia, 2023, 101 min.
Creator: Jelena Bajić Jočić
Director: Jelena Bajić Jočić
Cast: Aleksandra Janković, Anastasia Mandić, Anđelka Prpić, Đorđe Mišina, Isidora Simijonović, Jadran Malkovich, Jelena Moore, Miona Marković, Radivoje Bukvić
The second season of THE ABCS OF LIFE continues a story of love, failed lives, disappointments, recovery, and repentance; a story about a divorce epidemic and the loneliness of the common people who struggle to hang onto their sliver of gambled-away good fortune. After the their marriage has crashed, Vesna and Uroš are divorcing. Their paths and their life stories diverge. Just as they think they have sailed into the calmer seas, life proves them wrong. They are about to be hit by a storm the likes of which they could never have imagined.
THE CALL / POZIV
Serbia, 2023, 97 min.
Creators: Marko Popović i Iva Mitrović
Director: Marko Djilas
Cast: Mirjana Joković, Danica Nedeljković, Uliks Fehmiu, Miloš Timotijević, Snežana Bogdanović, Ana Franić, Nikola Glišić, Nada Šargin
Anica Reljić, an ex-police inspector now working in a call centre, is contacted by Sonja Tošić, a wealthy, single mother who wants to know the identity of a person who is making threatening phone calls to her. While she investigates the calls, Anica discovers that they are linked to a crime group known to her from her former life. She tries to warn Sonja, but Sonja goes missing. This prompts Anica and Tijana, Sonja's rebellious daughter, to start searching for her. Soon, they discover Sonja might be the key to the truth about an environmental scandal that is shaking the country – a mysterious poisoning of three young boys.
THE HIGHLANDS / GORA
Croatia, 2023, 90 min.
Creator: Maja Pek-Brünjes
Director: Mladen Dizdar, Aldo Tardozzi, Radislav Jovanov Gonzo
Cast: Kristijan Petelin, Ugo Korani, Dinka Vuković, Sandra Lončarić, Barbara Nola, Jasmin Mekić, Aleksandar Cvjetković, Lucija Rukavina
THE HIGHLANDS is a story about the courage, friendship, and sacrifices that unite members of the Mountain Rescue Service and their families in a small town in the Gorski Kotar region of Croatia. While they live in an idyllic and apparently peaceful area, these true heroes struggle to reconcile the requirements of their personal lives with those of their jobs.
THE VISIT / POSETA
Serbia, 2023, 105 min.
Creator: Veljko Mićunović
Director: Veljko Mićunović, Uroš Tomić, Mina Đukić
Cast: Matija Vastl, Kamka Točinovska, Luka Grbić, Miloš Tomotijević, Rale Milenković, Boris Isaković, Izudin Bajrović, Ksenija Marinković, Krešimir Mikić, Ozren Grabarić, Radoš Bajić, Ivana Vuković, Snežana Bogdanović, Uliks Fehmiu, Nikola Ristanovski, Gordana Boban, Dragan Despot, Leon Lučev, Nataša Šolak, Stefan Vukić, Vahid Džanković, Nikola Rakočević, Ljuba Bandović, Andrija Kuzmanović
Four stories based on real-life events. Four ordinary people have found themselves in investigative detention waiting to be released or taken to court for trial. Each of them must decide if they want to be released or truly free. The first two episodes sharing the name "Rijeka" are about a young football rising star who wakes up in hospital with no memory of the previous night. He is told that his friends died in a car crash and that he is suspected of driving the car.

The 29th Sarajevo Film Festival will take place from 11th to 18th of August 2023.