News
European Short Film Jury and selection of the 27th Sarajevo Film Festival
Cinematographer and editor Taina Galis, director Teymur Hajiyev and director and screenwriter Tin Žanić will serve on the European Short Film Jury of the 27th Sarajevo Film Festival. Films in the European Shorts section compete alongside the films in the Competition Programme – Short Films for an EFA (European Film Academy) nomination candidacy and to qualify for an Academy Award (Oscar®) nomination.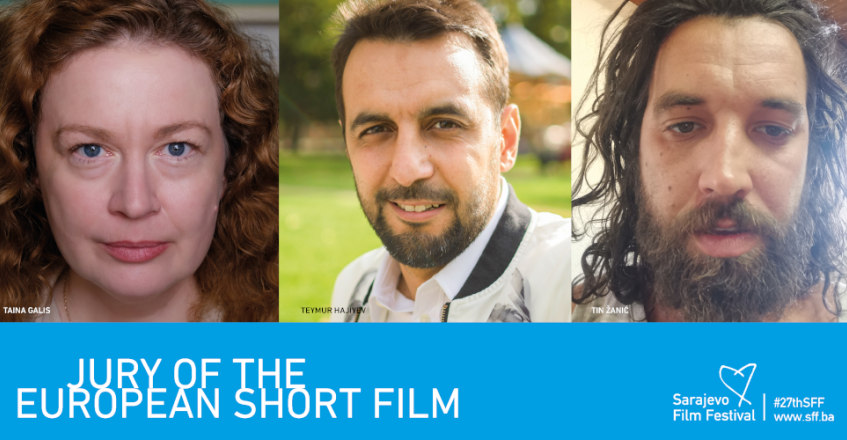 Taina Galis
Cinematographer and editor, Romania
Taina Galis is a cinematographer and editor. She worked in both of these roles on Fyzal Boulifa's LYNN + LUCY by and Andrea Luke Zimmerman's ERASE AND FORGET, and has worked on six further films, including Gabylu Lara's AMERICAN CURIOUS and Emily Wardill's FULL FIREARMS. Galis was nominated for the inaugural Jules Wright Prize, which focusses on women working in film as creative technicians and which is presented under the auspices of the Jarman Award. She has made films with Vivienne Dick, Lauren John Joseph, Roland Kennedy, Catriona MacInnes, Claire Oakley, Paul Simon Richards and Jala Wahid. WHORES AND HEROINES, a retrospective of Galis's collaboration with Fyzal Boulifa, was presented at the Institute of Contemporary Arts in London, and included THE CURSE and RATE ME, which received the Illy Award at the Festival de Cannes.
Teymur Hajiyev
Director, Azerbaijan
Teymur Hajiyev was born in Baku and graduated with a degree in economic cybernetics from the State University of Baku. He holds an MBA in marketing from the West Texas A&M University. Before he became a filmmaker, he worked as a marketing director for a number of companies in Azerbaijan. He has produced more than a dozen short films, including TORN by Academy Award winner Elmar Imanov. Hajiyev's debut short fiction film THE WOUND had its premiere at ShortsFest in Palm Springs in 2013. His subsequent shorts include SHANGHAI, BAKU, which premiered at the Tampere Film Festival, and SALT, PEPPER TO TASTE, which premiered at the International Film Festival Rotterdam. His fourth short, TOWARDS EVENING, was the first Azerbaijani film selected for the Critics' Week at the Festival de Cannes. Hajiyev is the only Azerbaijani filmmaker who has attended Cannes as both a director and producer.
Tin Žanić
Director, Screenwriter, Croatia
Tin Žanić holds an MA in film directing from the National Film and Television School (NFTS) as a Croatian Audiovisual Centre scholar. Before attending NFTS, he completed his BA in film and theatre production in Zagreb. His first two short films, KOMBA and MANJAČA, won awards and special mentions and were screened at major film festivals including the International Film Festival Rotterdam, the Clermont-Ferrand International Short Film Festival, the Tampere Film Festival, the Sarajevo Film Festival, the Hamburg International Film Festival and the Zagreb Film Festival, among others.
European Shorts 2021
The European Shorts section of the 27th Sarajevo Film Festival boasts 13 films hailing from 9 European countries. This year, the section unites filmmakers from Belgium, Czech Republic, Finland, France, Israel, Moldova, Netherlands, Poland, and Switzerland.
Sarajevo Film Festival is proud to present this slate of films that reflect what the European Shorts section stands for: young, European authors who are not afraid to break the mold, experiment with form, and create brave work exploring the most challenging of themes.
A PEOPLE'S RADIO – BALLADS FROM A WOODED COUNTRY / KANSANRADIO – RUNONLAULAJIEN MAA
Finland, 2021, 27 min.
Director: Virpi Suutari
A carnivalesque portrayal of the Finnish landscape of the soul and abode. Based on the iconic YLE programme "People's Radio," its visual material has been created by the road-movie method of driving across summery Finland. The film paints a panorama of what Finland looks like today.
COUPLE IN A ROOM SMOKING CIGARETTES
Belgium, Poland, 2020, 11 min.
Director: Katarzyna Gondek
A documentary film about a couple smoking cigarettes in a room.
EASY PANTIES / HALPOJA TAHROJA
Finland, 2021, 16 min.
Director: Marlena Martikainen
In spring 2020, Marlena gets laid off and ends up isolated in her home. As she struggles to find the motivation to hunt for a job hunt and go back to working hard for the money, she decides to try something else: selling her worn panties. Any self-aware millennial can put their ass on the line, right?
IF IT AIN'T BROKE / MA SHELO NISHBAR
Israel, 2021, 25 min.
Director: Elinor Nechemya
Like lost girls on a winter's day, Alona and Hagar ramble through the streets of Haifa. They eat roast chicken in bed, try on clothes and makeup, laugh and cry. Alona is escaping her life and Hagar is running away from her future.
IN GOOD HANDS / IN GUTEN HÄNDEN
Switzerland, 2021, 13 min.
Director: Kezia Zurbrügg, Philipp Ritler
The lines are busy at the telephone helpline. A life coach records an encouraging video while concerned parents consult a child psychologist. A spectrum of cinematic tableaux shows people trying to counteract the increasing loneliness by creating intimacy in a detached society.
LOVE, DAD / MILÝ TATI
Czech Republic, Slovakia, 2021, 13 min.
Director: Diana Cam Van Nguyen
The author rediscovers love letters her dad used to write her from prison. That love seems to be gone now. She decides to write back in hope to find the connection again. She puts in writing what could not be said: blaming him for family´s break-up but also trying to understand.
MEET DOUG / LE BOUG DOUG
France, 2020, 26 min.
Director: Théo Jollet
In a small town in a central France, Doug and his friends hang around the municipal stadium. They form a small, aimless community, having fun making jokes and rapping freestyle, earning small amounts of cash from petty theft and illicit sales. This frail balance is disturbed by the appearance of a mystical entity during one of their football games.
MY OWN LANDSCAPES
France, 2020, 19 min.
Director: Antoine Chapon
A former military game designer was spotted in a video game competition organized by the army. Before going to war, he made video game scenarios that prepared soldiers for culture shock and healed trauma. Now back from the war, his relationship with his identity, with life and with the video game have changed.
MY UNCLE TUDOR / NANU TUDOR
Belgium, Hungary, Portugal, Moldova, 2020, 20 min.
Director: Olga Lucovnicova
After twenty years of silence, the filmmaker travels back to the house of her great-grandparents. There, she experienced harmful events that have left a deep imprint on her memory. The long-awaited family gathering runs counter to her attempts to overcome the past.
NAYA / NAYA – DER WALD HAT TAUSEND AUGEN
Netherlands, 2021, 25 min.
Director: Sebastian Mulder
A wolf walks from Germany to Belgium, monitored through GPS. The first wolf in Belgium in a century, she makes headlines; then suddenly vanishes from the human gaze.
ON SOLID GROUND / ÜBER WASSER
Switzerland, 2021, 12 min.
Director: Jela Hasler
A city in summer. The morning coolness of the river does not last long; the heat covers the city like a magnifying glass under which seemingly trivial everyday nuisances suddenly take on weight. Eli tries to escape the narrowness and agitation of the city – yet keeps finding herself confronted with aggression. And the rage starts to build up within her.
PAVEMENT PARTY / STOEPFEESTJE
Netherlands, 2021, 15 min.
Director: Hugo Drechsler
Master Stu is a Surinamese folk singer who lives in the Netherlands. His wife Patrice acts as his songwriter and manager. Since the implementation of COVID restrictions, the streets are empty and all Master Stu's gigs have been cancelled. Stu and Patrice come up with an alternative: free pavement parties for the isolated elderly. Meanwhile, Stu's new music video needs to be recorded with social distancing in place: "One-and-a-half metres is the new normal."
THE PROBLEM OF THE HYDRA
Finland, 2020, 10 min.
Director: Maija Tammi
An experimental documentary film about the practical and metaphysical problems a small, freshwater polyp, known as Hydra, has caused from the 1700s up to the present day. Unlike to most animals, Hydra vulgaris does not age – at all.
The 27th Sarajevo Film Festival will take place 13-20 August 2021.