News
WOMEN DO CRY completes the Competition Programme - Feature Film selection of the 27th Sarajevo Film Festival
Bulgarian film Women Do Cry by Vesela Kazakova and Mina Mileva was added to the Competition Programme – Feature Film of the 27th Sarajevo Film Festival, completing the selection that now includes 10 feature films.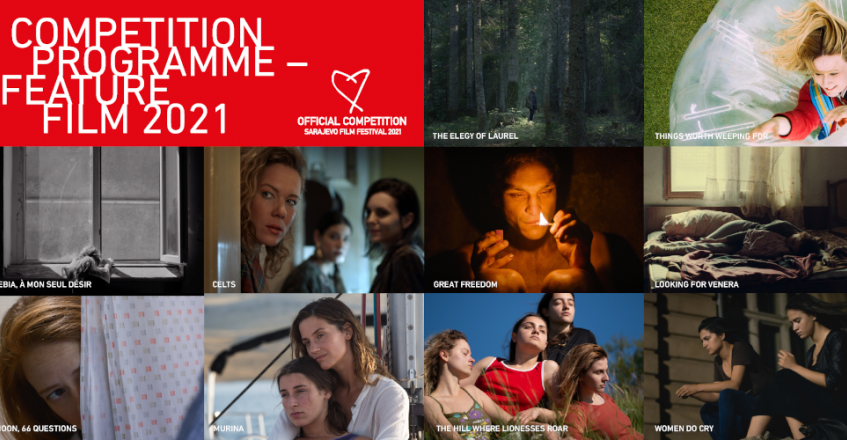 Women Do Cry had its world premiere at the recently-held Cannes Film Festival. Its exceptional quality qualified it for the Competition Programme – Feature Film section of the 27th Sarajevo Film Festival.
Vesela Kazakova and Mina Mileva grew alongside the Sarajevo Film Festival, first developing their projects in the CineLink industry segment and later competing for awards in the official programme. Women Do Cry is this directing duo's second feature film to compete for the Heart of Sarajevo award. With their first film, Cat in the Wall, they were in competition for the Heart of Sarajevo at the 25th Sarajevo Film Festival (2019), but Vesela Kazakova is also known for her role in Mila from Mars (Zornitza Sofia) which won the Heart of Sarajevo for best film at the Sarajevo Film Festival in 2004. Kazakova also plays in the new film, Women Do Cry, but this time the lead role is played by a well-known actress Maria Bakalova, who this year became the first Bulgarian actress to be nominated for the Golden Globe, the Critics' Choice award, BAFTA and the Oscar®.
This film completes the selection for the Competition Programme – Feature Film of the 27th Sarajevo Film Festival, which now includes 10 feature films selected by Elma Tataragić, eight of which are débuts and two their authors' second films. Eight films were directed by women and two by men.
A total of 48 films will compete for the Heart of Sarajevo awards at the 27th Sarajevo Film Festival. The Festival's four competition sections – for feature, documentary, short and student film – will feature 18 world, 3 international, 1 european, 25 regional and 1 B&H premieres.
We are presenting the ten films in the Competition Programme – Feature Film section of the 27th Sarajevo Film Festival that will be competing for the following awards:
- Heart of Sarajevo for best feature film (the 16,000 € prize was co-financed by the Sarajevo Canton Tourism Board);
- Heart of Sarajevo for best director (the 10,000 € prize was provided by Agnes B.);
- Heart of Sarajevo for best actress (2,500 € prize);
- Heart of Sarajevo for best actor (2,500 € prize).
WORLD PREMIERE
THE ELEGY OF LAUREL / ELEGIJA LOVORA
Montenegro, Serbia, 2021, 93 min.
Director: Dušan Kasalica
Cast: Frano Lasić, Savina Geršak, Draginja Voganjac, Lidija Kordić, Nikolina Bogdanović
Filip, a sophisticated university professor, and his wife go to a spa on the coast. After a few days spent in the comfy and monotonous ambience of the hotel, their seemingly ideal marriage is over: Filip's wife leaves him. Everything seems to indicate that his life is collapsing but, refined and armed with confidence, Filip faces his new circumstances with unusual ease. Deep in the forest, a new fantasy world will break him down but it also gives him a chance for a new beginning.
THINGS WORTH WEEPING FOR / A LEGJOBB DOLGOKON BŐGNI KELL
Hungary, 2021, 84 min.
Director: Cristina Grosan
Cast: Nóra Rainer-Micsinyei, Júlia Huzella, Judit Hernádi, Barna Bányai Kelemen, Katalin Lőrinc
Maja's life is finally coming together and her boyfriend couldn't be more pleased. In the midst of moving out of the student flat they share, Maja's evening takes a surprising turn when she stumbles upon an old relative who is, without a doubt, dead.
REGIONAL PREMIERE
BEBIA, À MON SEUL DÉSIR
Georgia, United Kingdom, 2020, 113 min.
Director: Juja Dobrachkous
Cast: Anastasia Davidson, Anushka Andronikashvili, Guliko Gurgenidze, Alexander Glurjidze, Anastasia Chanturaia, Ana Chiradze
Following the death of her grandmother Bebia, seventeen-year-old model Ariadna returns to Georgia to attend the funeral. Back in her motherland, she receives an unusual and unexpected request: according to an ancient local tradition, Ariadna, as the youngest member of the family, is responsible for reuniting the body and soul of her grandmother by connecting a thread from the place of her death to the resting body.
CELTS / KELTI
Serbia, 2021, 106 min.
Director: Milica Tomović
Cast: Dubravka Kovjanić, Stefan Trifunović, Katarina Dimić, Anja Đorđević, Nikola Rakočević, Milica Grujičić, Jelena Đokić, Slaven Došlo, Nada Škrigin, Jovana Gavrilović, Olga Odanović, Jovan Belobrković
Belgrade, 1993. Serbia is at war and its people suffer under international sanctions, facing constantly rising inflation. Marijana holds her family together while her husband perks up only in the presence of their small daughter, Minja, who injects some happiness into his otherwise grim life. Minja is celebrating her eighth birthday. Instead of a cocker spaniel of her own, there's a neighbour's three-legged dog for her to play with, and her birthday cake has been made with margarine instead of butter. In the living room, she and her classmates leap about dressed up as Mutant Ninja Turtles while the adults congregate in the kitchen…A drunken evening of unrestrained smoking and flirtation takes its toll.
GREAT FREEDOM / GROSSE FREIHEIT
Austria, Germany, 2021, 116 min.
Director: Sebastian Meise
Cast: Franz Rogowski, Georg Friedrich, Anton von Lucke, Thomas Prenn
In post-war Germany, Hans is imprisoned again and again for being homosexual. Due to Paragraph 175, his desire for freedom is systematically destroyed. The one steady relationship in his life is with his long-time cellmate Viktor, a convicted murderer. What starts as revulsion grows into something called love.
LOOKING FOR VENERA / NË KËRKIM TË VENERËS
Kosovo, 2020, 111 min.
Director: Norika Sefa
Cast: Kosovare Krasniqi, Erjona Kakeli, Rozafa Celaj, Basri Lushtaku
Calm, taciturn teenager Venera lives in a small village in Kosovo. At home, three generations are constantly under one another's feet in their cramped house, so Venera has next to no privacy. Outside, on the streets and in the café, it's not much better: the village is small and there's always a brother, nephew or neighbour keeping a beady eye on her. A girl is expected above all else to protect her good reputation – and that of her family — all of which makes it difficult for Venera to go her own way.
MOON, 66 QUESTIONS / SELENE 66 QUESTIONS
Greece, France, 2021, 108 min.
Director: Jacqueline Lentzou
Cast: Sofia Kokkali, Lazaros Georgakopoulos
After years of distance, Artemis has to get back to Athens due to her father's frail state of health. Discovering his well-kept secret allows Artemis to understand her father in a way she has not yet been able to, which allows her to love him truly for the first time.
MURINA
Croatia, Brazil, United States, Slovenia, 2021, 92 min.
Director: Antoneta Alamat Kusijanović
Cast: Gracija Filipović, Danica Čurčić, Leon Lučev, Cliff Curits
When an old family friend arrives at their Croatian island home, tension rises between restless teenager Julija and her oppressive father Ante. As Ante attempts to broker a life-changing deal, her tranquil yet isolated existence leaves Julija wanting more from the influential visitor, who provides a taste of liberation over a weekend laid bare to desire and violence.
THE HILL WHERE LIONESSES ROAR / LA COLLINE OÙ RUGISSENT LES LIONESS
Kosovo, France, 2021, 83 min.
Director: Luàna Bajrami
Cast: Flaka Latifi, Uratë Shabani, Era Balaj, Andi Bajgora, Luàna Bajrami
In a small, remote village somewhere in Kosovo, three young women see their dreams and ambitions stifled. In their quest for independence, nothing can stop them. Time to let the lionesses roar.
WOMEN DO CRY
Bulgaria, France, 2021, 107 min.
Režija / Director: Vesela Kazakova, Mina Mileva
Cast: Vesela Kazakova, Iossif Surchadzhiev, Katia Kazakova, Ralitsa Stoyanova, Maria Bakalova, Bilyana Kazakova
A mother stork is shot down from a chimney. A woman suffering from postnatal depression nearly jumps off a balcony. A girl has to deal with the stigma of HIV. A mother looks for magic in the lunar calendar. Fragility and absurdity in this contemporary Bulgarian family are set against the backdrop of violent anti gender-equality protests. Based on a true story.
The 27th Sarajevo Film Festival will take place 13-20 August 2021.