News
Honorary Heart of Sarajevo: Nijaz Hastor
Nijaz Hastor, the owner and founder of the ASA Prevent Group and founder of the Hastor Foundation, received the Honorary Heart of Sarajevo Award at the 24th Sarajevo Film Festival for his continuous support in development of the Festival and exceptional contribution to the affirmation and development of film in South-East Europe.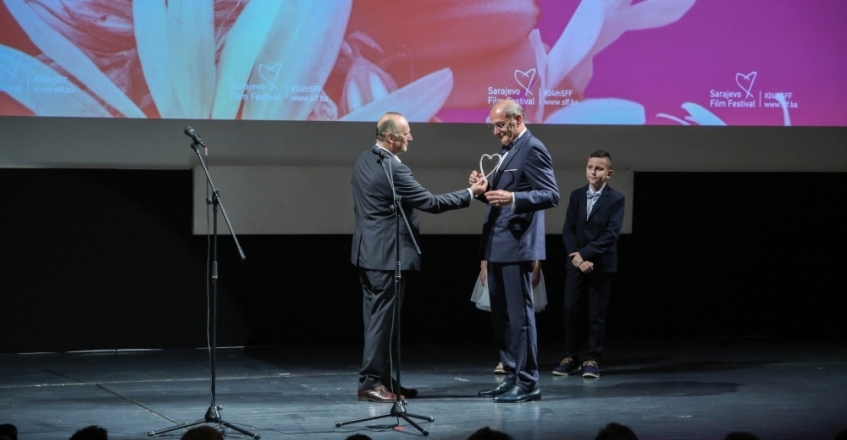 As the founder and owner of ASA Prevent Group, a global company that operates in 12 countries worldwide and employs 14,000 people, Nijaz Hastor is considered one of Europe's most successful entrepreneurs. And yet, he is a true visionary and philanthropist best known for his modesty, fairness and dignity. ASA Group is among the industry leaders in the region and, besides Bosnia-Herzegovina and Germany, it also operates in Austria, Hungary, Romania, Slovenia and Croatia, as well as in Brazil, Morocco, Turkey and the Republic of South Africa. It is the largest privately-owned business system in Bosnia-Herzegovina, where it employs 7,500 people, and is the country's top exporter. Nijaz Hastor's vision and wisdom have placed Bosnia-Herzegovina on the European map of leading automotive industry suppliers and among the top 100 global metal processing, furniture and fashion companies.
Nijaz Hastor was born in Goražde and completed his primary and secondary education in Ustiprača and his hometown, as the best student in his generation, before graduating from the Economic Faculty in Sarajevo. He started his career in the Sarajevo Car Factory (TAS) where he honed his skills for 15 years becoming a top-class manager with a unique strategic vision and business philosophy. In 1989, he went on a business trip to Wolfsburg which marked a turning point for him and started him on the road to becoming a progress-driving businessman, patriot and philanthropist. Unobtrusively, but confidently he started building ASA Prevent Group with a vision of creating a stable, progressive and economically successful company. Many families have had their lives changed for better by ASA Group.
His investment in Goražde in 2012 became known as one of the best business decisions in Bosnia-Herzegovina. On the occasion, Hastor made one of his rare public promises declaring that "from here we will expand all the way up and down the River Drina". Nijaz fulfilled his promise and today Goražde is an example of economic success as one of Bosnia-Herzegovina's top industrial cities.
Nijaz is the founder of the Hastor Foundation, the biggest Foundation in Bosnia-Herzegovina and the region, that builds upon the work of Wolfsburg-based Hastor Stiftung. Hastor Stiftung provides scholarships for students around the world stretching from South America to Central Asia.
In Bosnia-Herzegovina, the non-profit Hastor Foundation provides scholarships to 1,800 young people - including primary and secondary school children, as well as university students - with the hope to give them a good start in life and encourage them to stay in Bosnia-Herzegovina and become leaders in their communities. Over the past 12 years, the Foundation helped over 3,000 young people in Bosnia-Herzegovina to become responsible adults recognized for their success both in their local communities and globally.
His professional conduct and business philosophy contributed greatly to the development of the automotive industry in Europe where he is recognized as an example of a courageous and persistent businessman who upholds the values of justice, prosperity and social responsibility.
Nijaz Hastor set the foundation for post-war economic development in Bosnia-Herzegovina, while also investing his own means in the stability and strength of the country. He proved that everyone who sets high standards and has honest intentions can achieve top results.
Nijaz Hastor received numerous prizes for his work, including the April 6th Award of the City of Sarajevo and a Special Recognition of the Sarajevo Canton, and is an honorary citizen of Visoko and Goražde. He won special recognition of the Olympic Committee of Bosnia-Herzegovina for his selfless support to sports. He was named the top manager in South-East Europe several times and was also awarded, by the Advisory Council for Bosnia-Herzegovina in the United States, for his contribution to youth development and education.
In addition to investing in education, Nijaz Hastor also continuously supports the development of sports, arts and culture and was among the first to recognize the importance of the Sarajevo Film Festival for the promotion of the Bosnian film industry.
Nijaz Hastor received this year's Heart of Sarajevo award while his biography shows that he gave his heart to Sarajevo and Bosnia-Herzegovina a long time ago.