News
Full House for "Scream for me Sarajevo" Special Screening at Meeting Point Cinema
There was a full house for a special screening of the award-wining documentary SCREAM FOR ME SARAJEVO at the Meeting Point Cinema on Tuesday evening.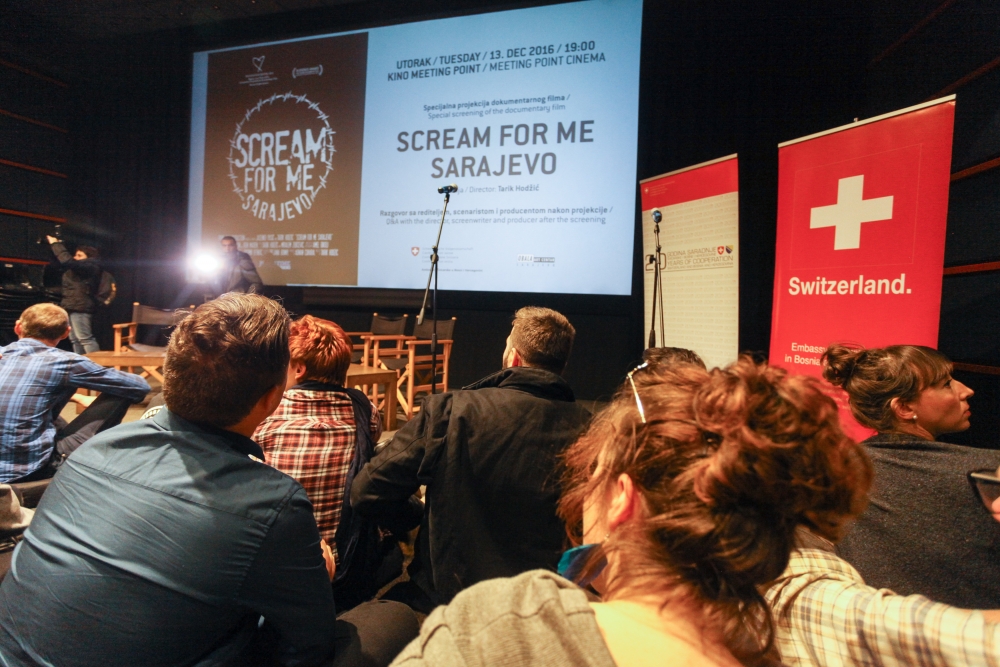 The film directed by Tarik Hodzic won three awards at the 22nd Sarajevo Film Festival, namely a Special Prize of the Jury of the Documentary Competition Program, the Human Rights Award and the Audience Award.
The Ambassador of Switzerland in B&A Andrea Rauber Saxer welcomed the audience and the screening was followed by a Q&A with the film's director Tarik Hodzic, screenwriter Jasenko Pasic and producer Adnan Cuhara.
The event was co-hosted by the Sarajevo Film Festival and the Embassy of Switzerland in Bosnia and Herzegovina, as part of their long lasting cooperation in promoting documentary films inspired by various human rights issues.
SCREAM FOR ME SARAJEVO is a documentary film about music in the besieged Sarajevo focusing on a concert held in the city by Bruce Dickinson on December 14, 1994. It is a film about people who risked their lives to perform for the people who risked theirs in order to continue living normally.
SCREAM FOR ME SARAJEVO was co-written by Tarik Hodzic and Jasenko Pasic, and appearing in the film are Bruce Dickinson, Alex Elena, Chris Dale, Jasenko Pasic, Fedja Stukan, Erol Gagula and many others.