News
Talents Sarajevo Call for Entries 2014
New call for entries for emerging filmmakers from Southeast Europe and Southern Caucasus to participate in Talents Sarajevo held within the framework of the 20th Sarajevo Film Festival is open from the 28th of March 2014. Application deadline is the 10th of May, 2014.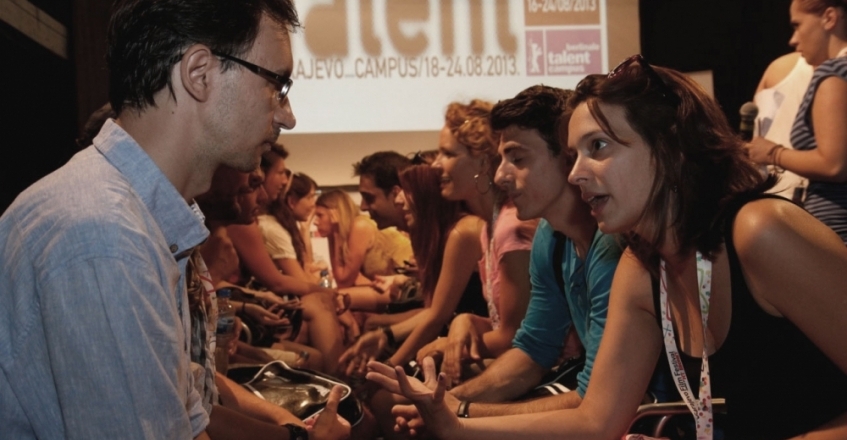 Talents Sarajevo, the networking platform for emerging filmmakers from Southeast Europe (Albania, Bosnia and Herzegovina, Bulgaria, Croatia, Greece, Hungary, Kosovo, Macedonia, Moldavia, Montenegro, Romania, Serbia, Slovenia and Turkey) and Southern Caucasus (Armenia, Azerbaijan and Georgia), was launched in 2007 in cooperation with Berlin International Film Festival and Berlinale Talents. The programme offers inspiring lectures, panel discussions, and active critical debates, complemented by workshops, practical tutorials, screenings and inter-festival excursions for participants.
The underlying focus of the 8th Talents Sarajevo is:
Imag(in)e
Looking long and hard
Talents Sarajevo 2014 will invite emerging film professionals to reflect on challenges of cinematography and experiment with imagery. They will be encouraged to maintain their gaze, to look long and hard around themselves to be able to distil extraordinary from the ordinary. Aspiring filmmakers will be inspired to experiment with visually appealing and striking solutions before reaching for narratively coherent and familiar ones.
Talents Sarajevo 2014 will celebrate insightful, daring and groundbreaking filmmaking and for the first time open its doors to up-and-coming cinematographers. As in previous editions it will also include actors, directors, film critics, producers and screenwriters from the wider region of Southeast Europe and Southern Caucasus.