News
Guests of the DocuCorner directors of the UNPLUGGED and SICKFUCKPEOPLE
Guests of the DocuCorner on Wednesday were the director of UNPLUGGED, Mladen Kovačević, and the director of SICKFUCKPEOPLE, Jurij Rechisky.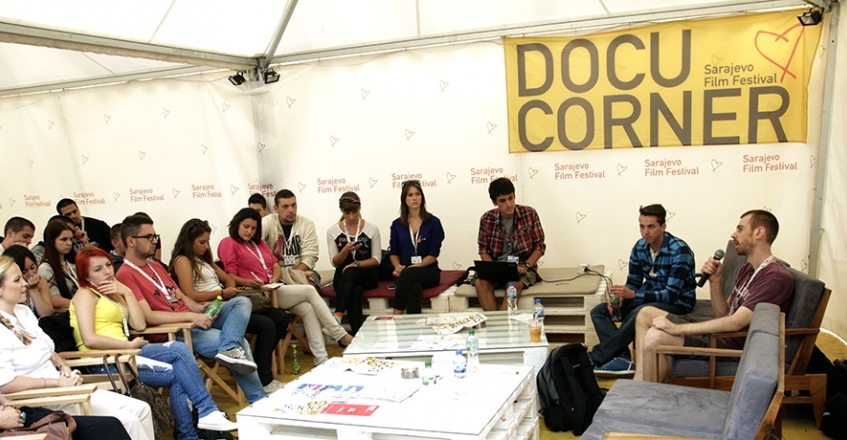 Discussion about the UNPLUGGED documentary
The film had its premiere in Switzerland, and was then shown in Belgrade. According to the director, Sarajevo screening was the most effective so far.

The audience started out by commenting the work and the actions of the main protagonists. When asked about the idea for the film, the director said that the initial idea truly was to make a film about leaf whistling. Finding the characters was really hard, it required contacting musicologists who play several instruments, but to no avail. He finally contacted folklore associations, which were able to help.

The subject of the film, according to the director, although seemingly unserious, hides some existentialist ideas and thoughts. The film truly refers to many spheres of life and contains philosophic motives.

In the continuation, discussion revolved around the problem of losing the elements of tradition, which does not only carry with it cultural consequences such as disappearance of folk music, but also lack of financial support by the authorities, which would eliminate the problem itself.

Discussion about the SICKFUCKPEOPLE documentary
The second film presented in this session was SICKFUCKPEOPLE, by the Ukrainian director Jurij Rechisky.

The director ultimately put his personal emotions into the film. The need to make the film occurred as a result of an intensive period in his life, during which he kept escaping inside himself, trying to hide from the breakdown of creativity.

The film producer, one of the director's best friends, provided the greatest support and assistance in making this film. According to Rechisky, he was the one who gave him the idea about the subject and the location of the shooting during one of their get togethers. They did not waste time, but started researching if it was possible to make a film about that. Easier than they imagined, they got the opportunity to do it, however, the emotions affected their personal lives.

When asked why the film was not shown in Ukraine, the director answered that the state, which unfortunately controled most publishing houses and the cultural system, was not interested in showing such things. As he says, he himself does not know the reason for such a position.