News
29th Sarajevo Film Festival Partners' Awards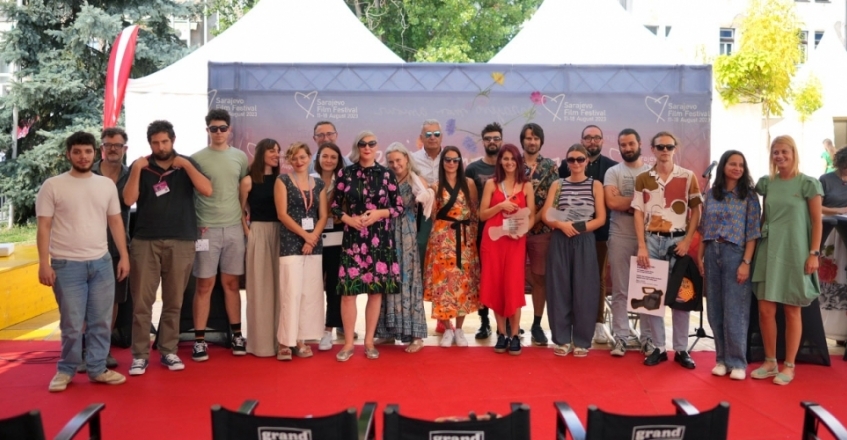 AWARDS OF ASSOCIATION OF BOSNIAN FILMMAKERS
"IVICA MATIĆ" AWARD
The committee for the "Ivica Matić" awards for 2022:
Armin Hadžić
Amira Kudumović
Bojana Vidosavljević
"IVICA MATIĆ" 2022 AWARD
The award for overall contribution to Bosnian and Herzegovinian film: Predrag Doder
"IVICA MATIĆ" 2022 AWARD
Elma Tataragić, screenwriter of the film THE HAPPIEST MAN IN THE WORLD
"IVICA MATIĆ" 2022 AWARD
Amra Bakšić Čamo and Adis Đapo, co-producers of the film THE HAPPIEST MAN IN THE WORLD
BH FILM STUDENT PROGRAMME AWARD
Jury:
Dario Bevanda
Lena Samardžić
Alen Šimić
BEST BH STUDENT FILM
DEAD KNOT
Director: Ismira Mašić
The Academy of Performing Arts in Sarajevo
SPECIAL JURY AWARD
TREND
Director: Emina Zubčević
The Academy of Performing Arts in Sarajevo
SPECIAL JURY MENTION
WHERE DO LOST CATS GO?
Director: Amar Komić
Akademija scenskih umjetnosti u Sarajevu
PACK & PITCH
THE CINELINK AWARD
SEARCHING FOR THULE
Greece
Director: Yannis Karpouzi
SPECIAL MENTION
KOBAJAGI—PLAYGROUND TACTICS FOR A REVOLUTION
Serbia
Director: Sava Reljin
Producer: Ivan Stepanović
EUROPEAN SHORT FILM CANDIDATE FOR THE EUROPEAN FILM AWARDS 2022.
Jury:
Olga Lucovnikova
Aneta Ozorek
Valentine Umansky
HOW I LEARNED TO HANG LAUNDRY, Barbara Zemljič
Director: Barbara Zemljič
The winner receives a candidature for the European Film Academy Best Short Film Award.
CINEUROPA PRIZE
Jury:
Pilar Campos
Danijel Hočevar
MEDIUM
Director: Christina Ioakeimidi
The prize is awarded by the Cineuropa portal, the site dedicated to the European cinema and film professionals, and is given to a film that besides having indisputable artistic qualities also promotes the idea of European dialogue and integration. The value of this award us 5,000 €.
CICAE AWARD
Jury:
Gregor Janežić
John Sarkanjac
Urszula Śniegowska
LIBERTATE
Director: Tudor Giurgiu
The International Confederation of Art Cinemas (CICAE) awards a film from the Competition Programme – Feature Film. The awarded film will receive CICAE support in terms of distribution, exhibition and audience outreach, through a network of 3,000 cinemas.