News
Introducing the Open Air Programme, online ticket sales starts today
Eight films are part of the Open Air Programme of the 28th Sarajevo Film Festival. The program begins with TRIANGLE OF SADNESS by Ruben Östlund, the opening film of the 28th Sarajevo Film Festival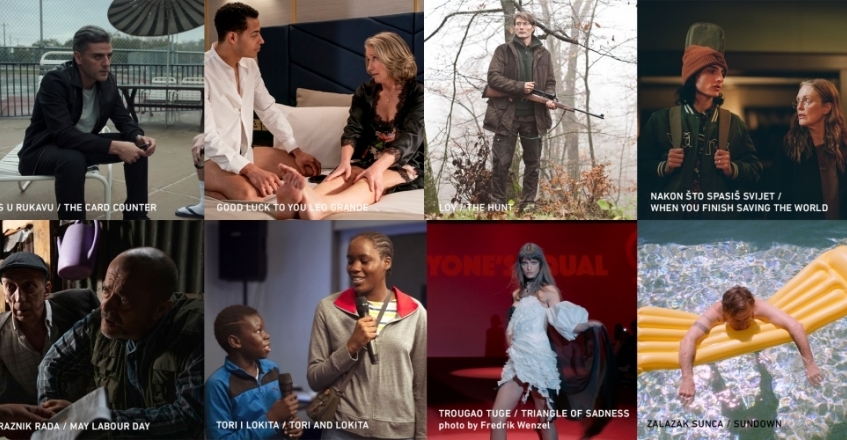 The screening of the film THE CARD COUNTER by Paul Joseph Schrader, this year's recipient of the Honorary Heart of Sarajevo, will be held on August 13. The programme also includes THE HUNT by Danish director Thomas Vinterberg, in which Mads Mikkelsen plays the main role. The film will be screened on August 14, and before the screening, Mikkelsen will be presented with the Honorary Heart of Sarajevo Award, which he received at the 26th Sarajevo Film Festival (2020), but could not attend in person on account of the COVID-19 pandemic.

The Open Air Programme also includes films GOOD LUCK TO YOU, LEO GRANDE by Sophie Hyde, WHEN YOU FINISH SAVING THE WORLD by Jesse Eisenberg, TORI AND LOKITE by Jean-Pierre and Luc Dardenne, and SUNSET by Michel Franco. The Festival will conclude on August 19 with the world premiere of the MAY LABOUR DAY by Pjer Žalica, which will also be screened in the Open Air Programme.


Tickets

Online tickets for the films in the program of the 28th Sarajevo Film Festival can be purchased from today, August 1, at 3:00 p.m. via tickets.sff.ba and the Sarajevo Film Festival website, www.sff.ba. By paying for tickets with UniCredit Mastercard® cards via the online platform, you get a 30% discount.
Individual tickets are available starting from August 8, 2022 at 10:00 a.m., at the Main Box Office (Bosanski kulturni centar, Branilaca Sarajeva 24).

More information about the Box Office HERE.

OPEN AIR PROGRAMME OF THE 28TH SARAJEVO FILM FESTIVAL:

GOOD LUCK TO YOU, LEO GRANDE
United Kingdom, 2022, 97 min.
Director: Sophie Hyde
Cast: Daryl McCormack, Emma Thompson

Nancy Stokes, a retired school teacher and widow, is yearning for some adventure, some human connection, and some sex. Good sex. While her husband Robert provided a home, a family, and something resembling a life, good sex was never on offer. But he's gone now, and Nancy has a plan: she will find adventure with a sex worker named Leo Grande. In an anonymous out-of-town hotel room, Nancy greets Leo. He looks every bit as good as his picture, but what Nancy wasn't expecting was conversation as well as fornication. Leo has a view on everything, and though he may not always tell the truth, Nancy finds she likes him. And he likes her. With growing sexual confidence, Nancy starts to relax. Over the course of three rendezvouses, the power dynamics shift and well-worn masks begin to slip.

MAY LABOUR DAY / PRAZNIK RADA
Bosnia and Herzegovina, Croatia, North Macedonia, Serbia, Montenegro, 2022, 113 min.
Director: Pjer Žalica
Cast: Muhamed Hadžović, Emir Hadžihafizbegović, Admir Glamočak, Boris Isaković, Aleksandar Seksan, Mirvad Kurić, Jasna Žalica, Tatjana Šojić, Dženita Imamović Omerović, Labina Mitevska, Vedran Đekić, Branka Katić, Ermin Bravo, Branimir Popović

After ten years of absence, Armin returns to Bosnia to surprise his father with good news. But there's a real surprise waiting for him at home when his father is arrested as a suspect for war crimes. Armin wants to find out the truth, while others find that it's easier to live in oblivion.

SUNDOWN
Mexico, France, Sweden, 2021, 83 min.
Director: Michel Franco
Cast: Tim Roth, Charlotte Gainsbourg, Iazua Larios, Henry Goodman, Albertine Kotting McMillan, Samuel Bottomley

When a distant emergency summons the wealthy Bennett family back to the United Kingdom, disrupting a vacation on the Mexican coast in Acapulco, simmering tensions rise to the surface between scions Alice and Neil. The delicate balance of the deceptively close-knit clan, including siblings Colin and Alexa, is irrevocably upset.

THE CARD COUNTER
United States, United Kingdom, China, Sweden, 2021, 110 min.
Director: Paul Schrader
Cast: Oscar Isaac, Tiffany Haddish, Tye Sheridan, Willem Dafoe

William Tell is an ex-military interrogator living under the radar as a low-stakes gambler. Tell's meticulous life is thrown into disarray when he encounters Cirk, a young man looking to commit revenge against a mutual enemy. With backing from the mysterious financier La Linda, Tell takes Cirk on the casino circuit to set him on a new path. However, he finds that the ghosts of the past will not release him so easily.

THE HUNT / JAGTEN
Denmark, Sweden, 2012, 115 min.
Director: Thomas Vinterberg
Cast: Alexandra Rapaport, Thomas Bo Larsen, Anne Louise Hassing, Lars Ranthe, Susse Wold, Ole Dupont, Mads Mikkelsen

Following a tough divorce, forty-year-old Lucas has a new girlfriend and a new job, and is in the process of re-establishing his relationship with his teenage son Marcus. But things go awry. Not a lot. Just a passing remark. A random lie. And as the snow falls and the Christmas lights are lit, the lie spreads like an invisible virus. The shock and mistrust get out of hand, and the small community suddenly finds itself in a collective state of hysteria, while Lucas fights a lonely fight for his life and dignity.

TORI AND LOKITA / TORI ET LOKITA
France, Belgium, 2022, 88 min.
Director: Jean-Pierre Dardenne, Luc Dardenne
Cast: Pablo Schils, Joely Mbundu, Alban Ukaj, Tijmen Govaerts, Charlotte De Bruyne, Nadège Ouedraogo, Marc Zinga

Twelve-year-old Tori and teenager Lokita are extremely close. Both from West Africa and without other family in Belgium, they depend on each other as they struggle to get by and make some money. Claiming they are brother and sister, they sing beautifully together at a restaurant – while serving as drug couriers for the chef. Despite the hardship, there is great joy in their relationship but, when Lokita's right to remain in Belgium is threatened, the financial demands of her family grow, and loan sharks loom, she is compelled into a pivotal decision that will separate her from Tori.

TRIANGLE OF SADNESS
Sweden, Germany, France, United Kingdom, 2022, 142 min.
Director: Ruben Östlund
Cast: Harris Dickinson, Charlbi Dean, Woody Harrelson, Vicki Berlin, Henrik Dorsin, Zlatko Burić, Jean-Christophe Folly, Iris Berben, Dolly De Leon, Sunnyi Melles, Amanda Walker, Oliver Ford Davies, Arvin Kananian, Carolina Gynning, Ralph Schicha

Models Carl and Yaya are navigating the world of fashion while exploring the boundaries of their relationship. The couple are invited for a luxury cruise with a rogues' gallery of super-rich passengers, a Russian oligarch, British arms dealers, and an idiosyncratic, alcoholic, Marx-quoting captain. At first, all appears Instagrammable. But a storm is brewing, and heavy seasickness hits the passengers during the seven-course captain's dinner. The cruise ends catastrophically. Carl and Yaya find themselves marooned on a desert island with a group of billionaires and one of the ship's cleaners. Hierarchy is suddenly flipped upside down, as the housekeeper is the only one who knows how to fish.

WHEN YOU FINISH SAVING THE WORLD
United States, 2022, 88 min.
Director: Jesse Eisenberg
Cast: Julianne Moore, Finn Wolfhard, Billy Bryk, Alisha Boe, Jack Justice, Jay O. Sanders, Eléonore Hendricks, Catherine Haun, Annacheska Brown

Evelyn has devoted herself to helping people in hard times, but she struggles to connect with her son Ziggy, an aspiring internet star who is oblivious to the problems of the world. As Evelyn attempts to become a parent figure to an unassuming teenager she meets at her shelter, and Ziggy fumbles through his pursuit of a brilliant and politically conscious young woman at his high school, this emotional comedy, written and directed by Jesse Eisenberg, reveals a funny and sharply perceptive portrait of a mother and son who may seem at odds but who are more alike than either would care to admit.


The 28th Sarajevo Film Festival will be held from the 12th to the 19th of August, 2022.