News
Introducing the Competition Programme – Feature Film of the 28th Sarajevo Film Festival
In the Competition Programme – Feature Film of the 28th Sarajevo Film Festival, there are 8 films according to the choice of the programmer Elma Tataragić. In Sarajevo, 4 films will have world and 4 regional premieres.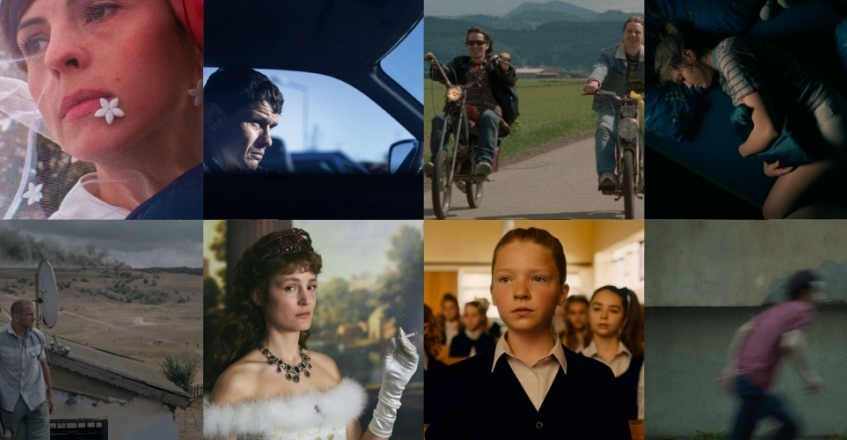 "The regional cinema is extremely diverse, and it is getting more diverse every year. That is also the case with this selection of eight titles: a wealth of themes, characters, approaches, stylistic choices, aesthetics, and most importantly, it represents a plurality of opinions, which is perhaps its most important feature. I think that all films call for a discussion. They bravely present their views and talk about important aspects of today, regardless of when the stories of the films actually take place. This year is special in that we are accepting into our regional family the cinema of Ukraine, whose citizens are surviving the most difficult days of the past few months", says Elma Tataragić about this years selection.

We present 8 films in the Competition Program - Feature film of the 28th Sarajevo Film Festival, which are in competition for awards:
HEART OF SARAJEVO FOR BEST FEATURE FILM
Award in the amount of 16,000 €, co-sponsored by Tourism Association of Canton Sarajevo
HEART OF SARAJEVO FOR BEST DIRECTOR
Award in the amount of 10,000 €, sponsored by United Nations in Bosnia and Herzegovina
HEART OF SARAJEVO FOR BEST ACTRESS
Award in the amount of 2,500 €
HEART OF SARAJEVO FOR BEST ACTOR
Award in the amount of 2,500 €

WORLD PREMIERES

A BALLAD / BALADA
Bosna and Herzegovina, 2022, 120 min.
Director: Aida Begić
Cast: Marija Pikić, Jasna Žalica, Milan Tocinovski, Lana Stanišić, Slaven Vidak, Enes Kozličić, Davor Golubović, Amar Čustović

Merjem-Meri, an unambitious, 30-year-old homemaker and mother to 8-year-old girl Mila, moves back to her parental home after 10 years of marriage. Soon after, Meri realizes she is stuck in a circle of provincial rules and expectations and a complex relationship with her ambitious mother and spoiled younger brother. Her hope to get the custody of her daughter wanes from day to day because she has no chance of finding a permanent job. The only thing that makes her happy, but also makes everyone else look down on her, is participation in an audition for a film role in her neighborhood.

MEN OF DEEDS / OAMENI DE TREABĂ
Romania, Bulgaria, 2022, 105 min.
Director: Paul Negoescu
Cast: Iulian Postelnicu, Anghel Damian, Vasile Muraru, Crina Semciuc, Daniel Busuioc, Oana Tudor, Vitalie Bichir, Annemarie Chertic

Ilie, a small-town police chief, wants to build a comfortable life for himself, but ends up making the wrong choices. Middle-aged and alienated, he feels the need to be a part of something - to build an orchard, even a home. Although dubious things happen in the village, Ilie only sees what suits him. The moment he gets involved in the village marks the beginning of his collapse. In a vacuum of solutions, he tries to be what he has never been before: the justice seeker who arrests everyone guilty.

RIDERS / JEZDECA
Slovenia, Croatia, Serbia, Italy, Bosnia and Herzegovina, 2022, 110 min.
Director: Dominik Mencej
Cast: Nikola Kojo, Timon Sturbej, Petja Labovic, Anja Novak

Slovenia, spring of 1999. Two friends from a small village decide to transform their mopeds into choppers and embark on a journey. On the road through Slovenia and Croatia - two countries just recently separated from Yugoslavia - they are accompanied by a young runaway woman with a mysterious past, and an old biker who has seen the world in search of freedom but still hasn't found it. They challenge each other and themselves through shared experiences, which break their ties and conception of the old, thus giving way to the new. But the path is treacherous and with the sudden death of a companion, friendship is at stake and pain is unbearable without someone to blame.

SIX WEEKS / HAT HÉT
Hungary, 2022, 95 min.
Director: Noémi Veronika Szakonyi
Cast: Katalin Román, Zsuzsanna Járó, Lana Szczaurski, Móni Balsai, András Mészáros, Kitti Keresztesi, Katalin Takács, Anna Györgyi

Zsófi, a rebellious teenager, lives in a tiny flat with her little sister, Mesi, and her unstable mother, Bea. Zsófi discovers late that she is pregnant and decides to give up her baby through open adoption to an infertile couple. Bea cannot accept her daughter's decision, but she does not realize that neither Zsófi, nor the circumstances, are suitable to welcome a newborn. Zsófi has always had to behave like a grown-up, working and making sensible decisions, instead of her mother and for her sister. She is still in high school and her only advantage is her table tennis career, for which she works assiduously. She plans the adoption thoroughly with the help of a social worker. Following the birth, she is given six weeks by law to change her mind and ask for her child back. She seems to be able to control her feelings ruthlessly and continue towards the goals she has set. At the same time, her maternal feelings intensify, doubts arise, and she slowly begins to question her decisions.

REGIONAL PREMIERES

CORSAGE
Austria, Luxembourg, Germany, France, 2022, 113 min.
Director: Marie Kreutzer
Cast: Vicky Krieps, Florian Teichtmeister, Katharina Lorenz, Jeanne Werner, Alma Hasun, Manuel Rubey, Finnegan Oldfield, Aaron Friesz, Rosa Hajjaj, Lilly Marie Tschörtner, Colin Morgan

Empress Elisabeth of Austria is idolized for her beauty and renowned for inspiring fashion trends. But in 1877, "Sissi" celebrates her 40th birthday and must fight to maintain her public image by lacing her corset tighter and tighter. While Elisabeth's role has been reduced against her wishes to purely performative, her hunger for knowledge and zest for life makes her more and more restless in Vienna. She travels to England and Bavaria, visiting former lovers and old friends, seeking the excitement and purpose of her youth. With a future of strictly ceremonial duties laid out in front of her, Elisabeth rebels against the hyperbolized image of herself and comes up with a plan to protect her legacy.

KLONDIKE
Ukraine, Türkiye, 2022, 100 min.
Director: Maryna Er Gorbach
Cast: Oksana Cherkashyna, Sergey Shadrin, Oleg Shcherbina

July 2014. Expectant parents Irka and Tolik live in the Donetsk region of eastern Ukraine near the Russian border, disputed territory in the early days of the Donbas war. Their nervous anticipation of their first child's birth is violently disrupted as the vicinal crash of flight MH17 elevates the forbidding tension enveloping their village. As Tolik's separatist friends expect him to join their efforts, Irka's brother is enraged by suspicions that the couple has betrayed Ukraine. Irka refuses to be evacuated even as the village gets captured by armed forces, and she tries to make peace between her husband and brother by asking them to repair their bombed house.

SAFE PLACE / SIGURNO MJESTO
Croatia, 2022, 102 min.
Director: Juraj Lerotić
Cast: Snježana Sinovčić, Goran Marković, Juraj Lerotić

A traumatic event, a sudden suicide attempt, tears the fabric of a family of three. Their life is turned upside down, as if they had been driven into a war imperceptible to anyone but them. The timeline of the film is very short, reduced to what is the most important – saving the one you love. SAFE PLACE was inspired by personal experience of the director, Jurja Lerotić, who also plays the main role in the film.

SERVIAM – I WILL SERVE / SERVIAM – ICH WILL DIENEN
Austria, 2022, 106 min.
Director: Ruth Mader
Cast: Maria Dragus, Petra Morze, Udo Samel, Anna Elisabeth Berger

An all-girl Catholic boarding school near Vienna for the wealthy Austrian elite and their children. The school is thriving, but faith is declining, and the upper floors are de­ser­ted. The head of the institution, a young energetic nun, fights with ardor against this decline. Martha, 12, one of the nun's favorite pupils, is a devoted girl who wishes to expiate the sins of the world. Encouraged by the nun, she is given a penance belt and taken to the abandoned upper floor.
The 28th Sarajevo Film Festival will be held from the 12th to the 19th of August, 2022.