News
Docu Talents from the East 2019
Organised by the Ji.hlava International Documentary Film Festival, Docu Talents from the East presents upcoming documentary films from Central and Eastern Europe.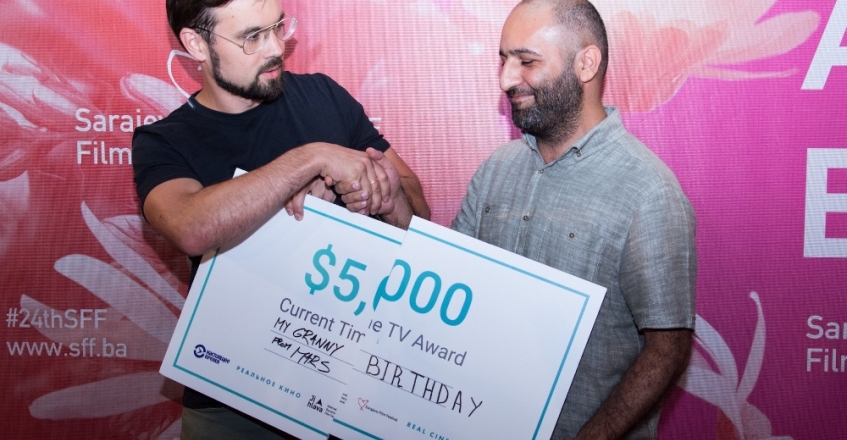 Ten new feature-length creative documentary projects, in production or post-production, pursue appropriate market-access points during CineLink to further their conversion and placement efforts. The selected projects are slated for release between September 2019 and August 2020, and will be introduced by their directors and producers in eight-minute overview presentations, which include three-minute trailers. The most promising project receives the Docu Talent Award in co-operation with Current Time TV. The award is accompanied by a prize in the amount of 5,000 USD. The Open presentation will take place on August 18, at Hotel Europe – Atrium from 15:00 – 17:00.

Projects were selected by representatives of the Ji.hlava IDFF. Complete list can be found below.

ANTIGONE - A SIMPLE STEP OUT

Slovenia | 87'

Director: Jani Sever

Producer: Nina Jeglič

Editor: Milos Kalusek

Production Company: Sever&Sever

An ancient heroine, decision-makers, and a philosopher in the sphere of ethical decisions.

BETWEEN TWO WARS

Germany | Latvia | Ukraine | 90'

Director: Alina Gorlova

Producer: Maksym Nakonechnyi

Editor: Olga Zhurba

Production Company: Tabor

Fleeing the Syrian conflict, young Andriy's family unexpectedly landed in Ukraine. Now, he helps people in the so-called war-torn grey zone as a volunteer for the Red Cross. He maintains the balance between the peaceful and military worlds, traditional and contemporary lifestyles, neutrality and passionate ideas, keeping or losing connection with his family, who are spread around the world because of war. Will Andriy manage to get out of it, taking his first steps into adult life, with all his identities damaged or lost?

THE BOX

Serbia | 75'

Director: Luka Papić

Producer: Srđa Vučo

Editor: Luka Papić, Srđa Vučo

Production Company: Cinnamon Film

This political ready-made comedy with real consequences explores the basic nature of politics by looking into one of the strangest periods in Serbian history.

THE CIRCLE

Estonia | 90'

Director: Margit Lillak

Producer: Johanna Trass

Editor: Jaak Ollino Jun.

Production Company: Allfilm

To change the world, one needs to start within.

FREM

Czech Republic | 73'

Director: Viera Čákanyová

Producer: Nina Numankadić

Editor: Marek Sulik

Production Company: Hypermarket Film s.r.o

Trying to create a universal artificial intelligence, we cannot escape anthropomorphic thinking, since we cannot get beyond the limits of the human brain. FREM is an attempt to go beyond these limits; an attempt to make a non-anthropomorphic film. It is an audiovisual requiem for homo sapiens.

GREEK WIFE

Greece | Ukraine | 70'

Director: Polina Moshenska

Producer: Polina Moshenska, Natalia Libet, Michael Sladek

Editor: Mykola Bazarkin, Polina Moshenska, Adam Kurnitz

Production Company: DGTL RLGN

A story of love, a story about a long-distance relationship that started in September 2014, while war in Ukraine and the economic crisis in Greece were taking a dramatic turn.

KIX

Croatia | Germany | Hungary | 90'

Director: Dávid Mikulán, Bálint Révész

Producer: Viki Réka Kiss

Editor: Péter Politzer

Production Company: ELF Pictures

KIX is the story of Sanyi, a troubled street boy, as he grows from eight to eighteen, from kid stuff to the verge of adulthood. Over a decade, he goes from young mischief-maker to public enemy.

A NEW SHIFT

Czech Republic | 95'

Director: Jindřich Andrš

Producer: Augustina Micková, Miloš Lochman

Editor: Lukaš Janičik

Production Company: moloko film

A NEW SHIFT is the story of a coal miner who chose to break out of the depths and become a computer programmer. He changed his life and his job, but he did not know how much he would have to change himself.

PORTRAIT OF EUROPE

Poland, Germany | 80'

Director: Filip Jacobson

Producer: Karolina Galuba

Production Company: Furia Film

To travel is to discover that everyone is wrong about other countries. A portrait of Europe from the outside – from the perspective of Japanese tourists, recorded on their holiday videos.

US AGAINST OURSELVES

Romania | 75'

Director: Andra Tarara

Producer: Anda Ionescu, Anamaria Antoci

Editor: Andra Tarara

Production Company: Tangaja Production

Two screens. A father and his daughter film each other. He has schizophrenia and she grew up without him.