News
Work in Progress Selection 2019
CineLink announces line-up for Work in Progress 2019! CineLink Work in Progress is a section of the Sarajevo Film Festival's co-production market, which serves as a showcase of the most exciting new works from Southeast Europe and the MENA region. The selection includes 11 exciting new feature-length films: 9 fiction and 2 documentaries, which will be presented to up to 60 high-profile industry professionals (founders, sales agents, distributors, broadcasters and festival programmers) with the aim of assisting their completion and enhancing their distribution possibilities.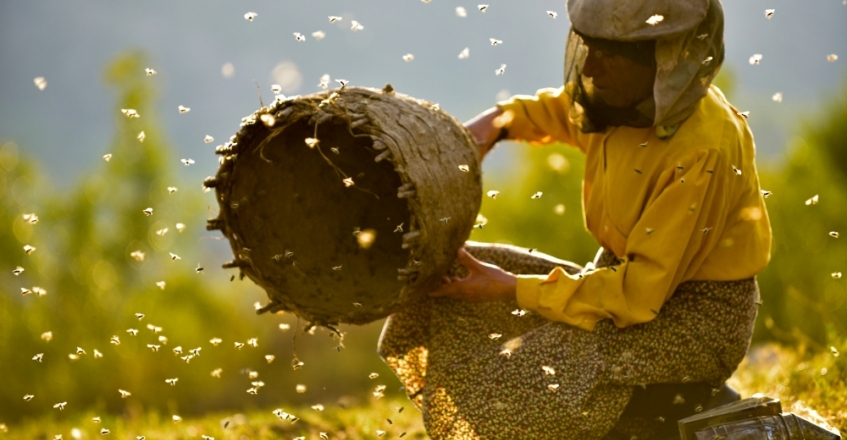 Honeyland by Ljubomir Stefanov and Tamara Kotevska, winner of the TRT award at CineLink Work in Progress in 2017 and Cat in the Wall by Mina Mileva and Vesela Kazakova.
"This year's selection is probably like no other, showcasing fresh voices all the way from Hungary and Romania to Iraq an Azerbaijan. The Work in Progress brings a mix of strong debuts, thought-provoking cinematic works, and essays all bound by the daring mature talent of the filmmakers from the region, while pushing our boundaries." explains Amra Bakšić Čamo, Head of CineLink at the Sarajevo Film Festival.
Projects compete for three awards: Post Republic Award (€50,000, in kind), the CineLink Iridium Award (€20,000, in kind) and the Turkish National Radio Television Award (€25,000, cash).
Among many others, previous Work in Progress projects include HONEYLAND by Tamara Kotevska and Ljubomir Stefanov (World Cinema Grand Jury Prize: Documentary and World Cinema Documentary Special Jury Award for Impact for Change, Sundance 2019 and selected at the Sarajevo Film Festival's Competition Programme – Documentary film), GODLESSS by Ralitza Petrova (Golden Leopard winner, Locarno Festival 2016), TOTO AND HIS SISTERS by Alexander Nanau (Silver Eye Award for Best Documentary Feature, Jihlava International Documentary Film Festival 2014), WHITE SHADOW by Noaz Deshe (Lion of the Future, Venice Film Festival 2013), HARMONY LESSONS by Emir Baigazin (Silver Bear, Berlinale 2013), MOLD by Ali Aydın (Lion of the Future, Venice Film Festival 2012), and IF I WANT TO WHISTLE I WHISTLE by Florin Șerban (Jury Grand Prix Silver Bear and Alfred Bauer Prize, Berlinale 2010) and CAT IN THE WALL by Mina Mileva and Vesela Kazakova (Premiere at the Locarno Film Festival, and selected at the Sarajevo Film Festival's Competition Programme – Feature Film).
The Work in Progress selection 2019:
THE CAGE
(fiction)
Director: Cemil Ağacıkoğlu
Producer: Sezgi Üstün San
Production company: Sezzfilm
Turkey
After getting expelled unjustly from his job, an ex-police officer fights to clear his name to join back to the force but struggles to overcome the paranoia and darkness growing in him.
FISH EYE
(documentary)
Director: Amin Behroozzadeh
Producer: Mina Keshavarz
Production company: MinDoc Film Production
Iran
Annually, Hundreds of industrial fishing boats go to the oceans around the world to fish, million tons Tuna fishes.
Fish eye is a poetic, visual essay documentary about fishing industry.
I AM NOT ANGRY ANYMORE
(fiction)
Directors: Pavel G. Vesnakov
Producers: Monica Balcheva, Orlin Ruevski
Production company: Moviemento
Bulgaria, Germany
When you lose yourself, the path of reconciliation starts with anger.
IN THE STRANGE PURSUIT OF LAURA DURAND
(fiction)
Director: Dimitris Bavellas
Producers: Gina Petropoulou, Lina Yannopoulou, Giorgos Zervas, Dimitris Bavellas
Production company: VOX Productions
Greece
Two dysfunctional men search for the love of their life: A 90's porn star who has vanished mysteriously from the industry without leaving any traces behind her.
THE ISLAND WITHIN
(fiction)
Director: Ru Hasanov
Producer: Ru Hasanov
Production company: Coyote Cinema
Azerbaijan, France
Emotionally and physically abused chess grandmaster escapes to an island populated by feral horses and one human inhabitant. Inspired by a true story.
MY FATHER'S NAME IS ABDUL
(documentary)
Director: Leila Albayaty
Producer: Leila Albayaty, Michel Balague
Production company: Volte Salgen, Kidam
Iraq, Qatar, Belgium, France, Egypt, Germany
My father's name is Abdul portrays an encounter between Western and Arab cultures via the story of a French-Iraqi family.
NEVE SHAANAN
(fiction)
Director: Idan Haguel
Producers: Itay Akirav
Production company: Film Harbor
Israel
A bourgeois gay couple move to a rapidly gentrifying area, and get entangled in a moral dilemma that threatens to jeopardize their future as parents.
OTTO THE BARBARIAN
(fiction)
Director: Ruxandra Ghițescu
Producers: Iuliana Tarnovețchi, Anda Ionescu
Production company: Alien Film
Romania, Belgium
Otto, a bright teenage punk, deals with the loss of his girlfriend. He continues to live inhabiting the void space left by her, but in order to survive he needs to face his feelings and his guilt.
A PACK OF SHEEP
(fiction)
Director: Dimitris Kanellopoulos
Producer: Elina Psikou, Konstantina Stavrianou
Production company: Jungle Films, Graal S.A
Greece, Serbia, Albania
In a remote town, a local businessman who has a debt, tries to join forces with all loanshark's deptors. But not everyone sees things the same way.
THINGS WORTH WEEPING FOR
(fiction)
Director: Cristina Groșan
Producer: Judit Stalter
Production company: Laokoon Filmgroup
Hungary
Because sometimes escaping a perfect life everyone approves of and starting over with no plans at all is the most mature thing you can do.
WATERFALL CEO
(fiction)
Director: Svetoslav Draganov
Producer: Svetoslav Draganov, Katya Trichkova
Production company: Cineaste Maudit Production
Bulgaria, Romania
A 40-ty years old documentary director not happy with his career, devotes less and less time to his family and puts all his energy in filming and fixing the broken relationship of his characters.