News
Jury of the Competition Programme - Feature Film 2019
Director and writer Ruben Östlund (president of the Jury), Festival Director of International Film Festival Rotterdam Bero Beyer, Funa Maduka, Director of International Original Films & Acquisitions, Netflix, actress Jovana Stojiljkovic and director Teona Strugar Mitevska will serve on the jury of the Competition Programme - Feature Film of the 25th Sarajevo Film Festival.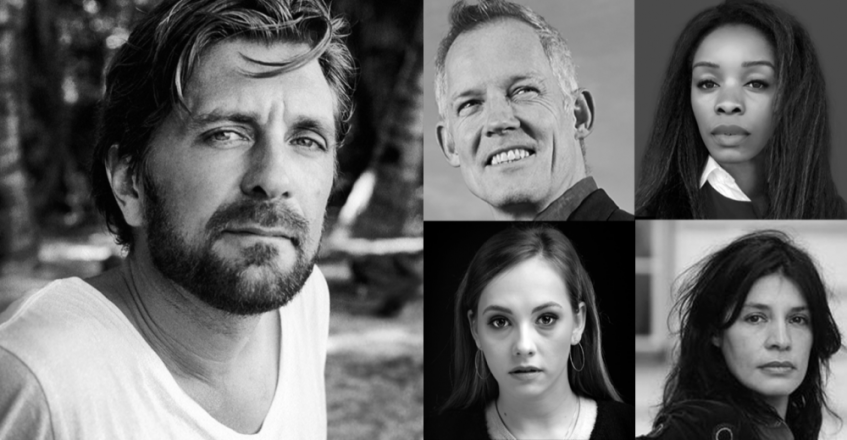 President of the Jury
Ruben Östlund (Sweden)
Director, writer
Ruben Östlund was born in 1974 on Styrsö, a small island on the West Coast of Sweden. He studied graphic design before enrolling at the University of Gothenburg, where he met Erik Hemmendorff with whom he later founded Plattform Produktion. An avid skier, Östlund directed three ski films, alluding to his taste for long sequence shots, a taste he structured and developed throughout his film studies and which to this day remains an important trademark of his work.
Östlund has become well known for his humorous and accurate portrayal of human social behaviour, as well as for his renowned use of Photoshop and other forms of image processing software in his films.
His feature debut THE GUITAR MONGOLOID, produced by the co-founder of Plattform Produktion, Erik Hemmendorff, won the FIPRESCI Award at Moscow in 2005. The film was then distributed in more than 20 countries and shown at numerous festivals, awarding Ruben international recognition. Two years later, he won the Golden Bear in Berlin for INCIDENT BY A BANK, a short film in which every camera movement was computer generated in postproduction. The premiere of his third feature film PLAY was held in Cannes at the Directors' Fortnight, where he was awarded the "Coup de coeur' Prize. After Cannes, PLAY was shown in Venice and Toronto as well as numerous other festivals where it was awarded additional prizes and distinctions. Among others, PLAY was nominated for the prestigious LUX prize of the European Parliament and won the Nordic Prize, the highest distinction in Scandinavia.
His fourth feature film, FORCE MAJEURE, premiered at Un Certain Regard in Cannes 2014, where it was awarded the Jury Prize. The film was selected in countless festivals and won 16 Best Foreign Film awards. FORCE MAJEURE was also nominated for a Golden Globe and shortlisted for an Oscar. The film has been distributed in over 70 countries. In 2017, Ruben's fifth feature film THE SQUARE won the Palme d'Or in Cannes. It was also nominated for an Oscar® for Best Foreign Language Film.
Bero Beyer (Netherlands)
Festival Director, International Film Festival Rotterdam
In August 2015 Bero Beyer was appointed as general and artistic director of the International Film Festival Rotterdam. Before Bero Beyer worked as an independent producer based in the Netherlands. Through his company Augustus Film (created in 2000) he has produced a number of award winning films, like RANA'S WEDDING, which premiered in the Semaine de la Critique (Cannes 2002) and the first Palestinian Oscar nominated feature film PARADISE NOW (2005). In 2008 Bero co-produced the Un Certain Regard selection and Palestinian Oscar submission SALT OF THIS SEA by director Annemarie Jacir, which was sold internationally by Pyramide.
From January 2013 until July 2015 Bero has served a three-year term as Film Consulent for the Dutch Film Fund, with priority field of Arthouse films and International Co-productions. As such he advised on the script and project development and production of feature films by established directors applying for selective funding from the Netherlands Film Fund's Screen NL scheme and Minority Co-production programs.
Funa Maduka (Nigeria)
Director of International Original Films & Acquisitions, Netflix
Funa Maduka is the Director of International Original Films & Acquisitions at Netflix where she works with the world's top global and emerging filmmakers. Throughout her tenure, she has remained positioned at the frontline of the company's global expansion, managing the launch of the film catalog across 100+ countries. Her film acquisitions brought Netflix its first film nominations at both the Golden Globes and the Academy Awards.
Previously she worked at Participant Media developing and managing campaigns for film and television projects. She has held leadership and strategic positions at McKinsey & Company, the Oprah Winfrey Foundation (where she served four years as the inaugural Dean of Students at the Oprah Winfrey Leadership Academy), Obama for America, the Clinton Global Initiative and on the trading floor at Goldman Sachs.
She holds a BA in History from Cornell University and a Masters in Business Administration from Harvard Business School, where she served on the Board of Trustees and as President of the Student Body, respectively. She is an awarded filmmaker, credited with producing and directing the first Nigerian film to world premiere at the Sundance Film Festival. She remains active in girls' education advocacy and water-access initiatives.
Jovana Stojiljkovic (Serbia)
Actress
Jovana Stojiljkovic (27) was born in Belgrade where she broke into acting by attending Nenad Nenadovic's acting school. While in the third year of her secondary acting education, Stojiljkovic landed her first movie role in Maja Milos' CLIP. She graduated acting at the Faculty of Drama Arts in Belgrade, in the class of Professor Dragan Petrovic.
She got her first TV role at 11 years old, when she appeared in television drama FIRST CHRISTMAS VISITOR produced for the Serbian public broadcaster RTS. During her university studies, she was cast as lead role in Pavlo Vuckovic's PANAMA which garnered her numerous awards at film festivals in Serbia and abroad. She also appeared in Oleg Novkovic's FATHERLAND, S.Koljevic's I DEFENDED YOUNG BOSNIA, I.Stefanovic's LOVE ISN'T ALWAYS ON TIME and in D.Bjelogrlic's TV series SHADOWS OVER BALKAN. In 2018, she achieved major success with her appearance in TV series MORNING CHANGES EVERYTHING and feature film SOUTH WIND in which she played one of the main roles.
She is a member of Belgrade-based Atelje 212 Theater's company and is also appearing on stage in Yugoslav Drama Theater, as well as in Zvezdara and Bosko Buha theaters.
Teona Strugar Mitevska (North Macedonia)
Director
Teona Strugar Mitevska was born in 1974 in an artistic family in Skopje, Macedonia. She started as a child actor, trained as a painter and a graphic designer and later studied at M.F.A program in film at the Tisch School of Arts, New York University.
She made her debut as short film director in 2001 with VETA, and has been making films ever since: HOW I KILLED A SAINT, 2004; I AM FROM TITOV VELES, 2007; THE WOMAN WHO BRUSHED OFF HER TEARS, 2012; TERESA AND I, 2013; WHEN THE DAY HAD NO NAME, 2017.
GOD EXISTS, HER NAME IS PETRUNIJA shot in January 2018, premiered in competition in Berlin Film Festival 2019. Since its founding, SISTERS AND BROTHER MITEVSKI, have co-produced THE WILD PEAR TREE by Nuri Bilge Ceylan; NIGHTLIFE by Damjan Kozole and SIERRANEVADA by Christi Puiu.
In 2018, France's Ministry of Culture awarded her the Chevalier de l'Ordre des Arts et des Lettres.