News
Jury of the Competition Programme - Documentary Film 2019
Emilie Bujès from Switzerland, Orwa Nyrabia from Syria and Nenad Puhovski from Croatia will serve on the jury of the Competition Programme - Documentary Film of the 25th Sarajevo Film Festival.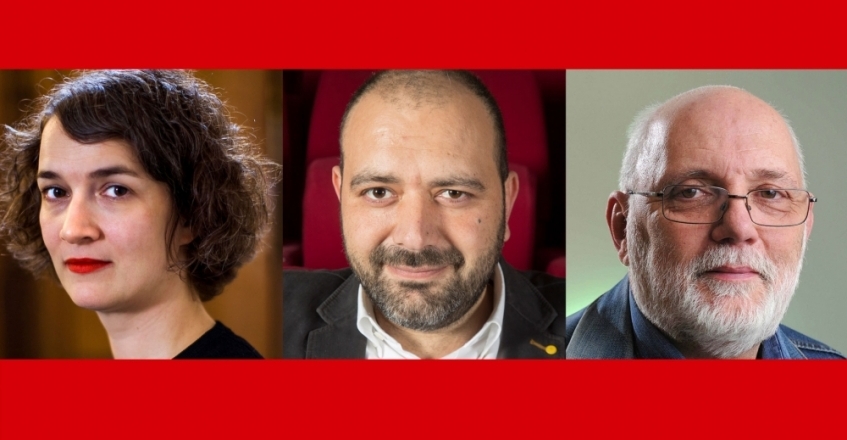 Emilie Bujès (Switzerland)
Artistic Director of the Visions du Réel International Film Festival Nyon

Emilie Bujès is since 2017 the Artistic director of Visions du Réel, International Documentary Film Festival Nyon, and was previously a programmer at the festival since 2012. She is a program advisor for Cannes Directors' Fortnight and an expert for the Swiss fund visions sud est. She has previously been the deputy artistic director of La Roche-sur-Yon International Film Festival (2014–2016) and a member of the 'Image/mouvement' commission of the CNAP (French National Centre for Visual Arts).
Before this, she was a curator at the Geneva Contemporary Art Center (2010–2014) and has contributed to the program of film festivals and art institutions such as the Forum Expanded–Berlinale, the Contemporary Art Centre (CAC) Vilnius, the Lausanne Underground Film and Music Festival, the Transmediale (Berlin), or the artist/curator-run space Forde (Geneva). She has been teaching at Geneva School of Art and Design and Bern University of the Arts, and received a Swiss Art Award for curators in 2014.

Orwa Nyrabia (Syria)
Artistic Director of the International Documentary Film Festival Amsterdam (The Netherlands)
Born in 1977, Orwa Nyrabia is the Artistic Director of the International Documentary Film Festival Amsterdam. He was born in Syria where he worked as actor and as journalist, before starting up the first independent documentary-specialized production company in the country, in 2002, together with his partner Diana el Jeiroudi. Later on in 2008, Nyrabia and El Jeiroudi co-founded the independent documentary film festival DOX BOX, which quickly became the Arab region's leading documentary festival. Nyrabia moved to Egypt in 2012, then to Germany in 2013, where he continued producing award-winning international co-productions such as Dolls, A Woman from Damascus (IDFA 2007), Return to Homs (IDFA 2013 and Sundance 2014) and Silvered Water (Cannes 2014).
Nyrabia tutored many up and coming filmmakers from around the world and served as juror for some of the world's most influential film funds and festivals. He is a member of AMPAS, IDA, EDN. His films earned a long list of awards including a Sundance Grand Jury award and a Grierson Award and his work earned him accolades such as the George Polk Award, the Nestor Almendros Award and the Katrin Cartlidge Award. His work has been highlighted by media outlets such as 60 Minutes, NYT, WP, Le Monde...


Nenad Puhovski (Croatia)
Director of Factum and ZagrebDox

Nenad Puhovski is one of the pivotal persons in the development of modern Croatian documentary film. He is the author and producer of awarded films and director of the biggest regional documentary film festival.
Nenad was born in 1949 in Zagreb, where he completed his primary and secondary education, the Faculty of Philosophy and Academy of Dramatic Arts (ADU). As a stage, film and TV director (amateur since 1965 and professional since 1973), he has directed over 250 productions. He has received a number of Croatian and international awards.
He worked as a dramaturgist of &TD Theater. As of 1980, he worked as a teacher on the Film and TV Directing Department of ADU. Today he works there as a Professor of Documentary Directing. He is the founder of the TV Program Department and graduate studies of documentary film. He taught and mentored projects of young professionals in Europe, Asia, South America, Near East, Africa and USA.
In 1997 he founded Factum, the most important Croatian independent documentary production. He has been managing it ever since. He has produced more than 70 documentary films that were shown on more than seventy festivals. In addition to numerous international awards, they won three Grand Prix Awards and four Best Production Awards at the Days of Croatian Film. In 2005, he founded ZagrebDox, the biggest international documentary film festival in the region. He has been its director ever since.
He received the City of Zagreb Award and the Order of Danica Hrvatska. He is also a winner of the Albert Kapović Award for outstanding contribution to the art of film in Croatia (awarded annualy by the Croatian Producers Association) and Gold Medal for best producer at Belgrade Documentary and Short Film Festival.
For his work on documentary film, particularly for launching and managing ZagrebDox, he received in 2009 the European Documentary Network (EDN) Award and Medal of the City of Zagreb.
He is a member of the European Film Academy.