News
CineLink reveals first projects selected for Co-Production Market and CineLink Drama
Eight feature film projects in early development and five drama series projects have been announced as part of this year's CineLink line-up.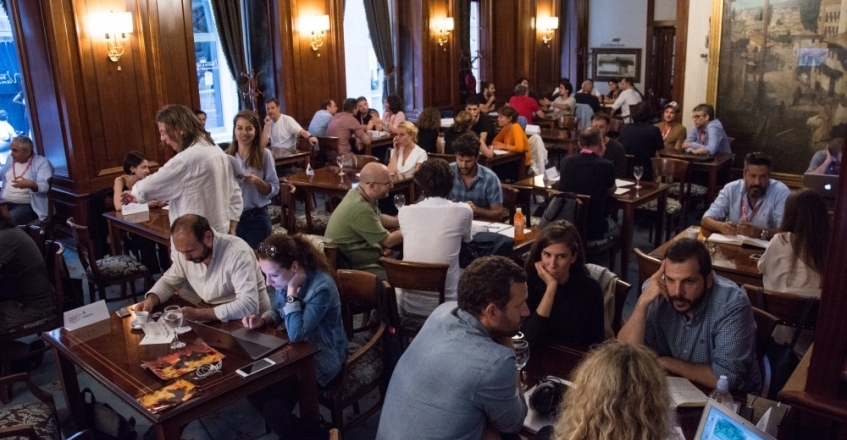 The projects will take part in bespoke preparatory workshop designed to fine-tune the overall development of the projects in April, ahead of their presentation at CineLink Industry Days from August 19th till the 22nd.

Amra Bakšić Čamo, Head of CineLink said: "The selection represents voices of new generation that demands to be heard through strong and catching cinematic storytelling. Though diverse in terms of points of view and authenticity, there is a common trail of identity questioning that presses many generations across the Europe. The projects are witty, passionate and thought-provoking, coming from some of the most exciting emerging talent from our region."

Jovan Marjanović, Head of Industry added: "If we look at the current market for drama series in our region, we see that the money is there, the distribution platforms are there, but the quality is not yet there. We see the drama business increasingly becoming like the independent film business, which among other things means development phase is key for reducing quality risk. This is where we see CineLinks role at the moment - we can help make the shows better through dedicated work of our consultants and mentors. What we have in front of us in the five projects selected for CineLink Drama 2019 is pretty good already and we are certain that once ready, these shows will define what quality drama series in Southeast Europe mean."



CINELINK CO-PRODUCTION MARKET SELECTION:

THE ANATOLIAN PANTHER
Director: Orçun Köksal
Writer: Orçun Köksal
Producer: Enes Erbay
Production company: TEFERRUAT FILM
Country: Turkey

Two zoologists who research extinct Anatolian-Panther, go on a journey in Anatolia. The quest for the panther makes them to question themselves and what they know. They find much more than the Panther.


THE GREAT ADVENTURE
Director: Cecilia Șefănescu
Writer: Cecilia Șefănescu
Producer: Bogdan Crăciun
Production company: Libra Film Productions
Country: Romania

A holiday abroad reveals that strangers are not only people who speak a different language or have different values; they can also be those you call family, those you think you know. And, at times, you can be a stranger yourself.


LIKE A LIMBLESS TREE
Director: Tunç Davut
Writer: Sinem Altındağ, Tunç Davut
Producer: Sinem Altındağ
Production company: Tekhne Films
Country: Turkey

Terminally ill Refik wishes to spend the approaching Eid with his children, despite their self-obsession. When his Syrian refugee carer disappears, leaving her kids behind with him, Refik struggles to find the woman in İzmir, the city of hope.


PULA
Director: Andrej Korovljev
Writer: Ivan Turkovic Krnjak
Producer: Dijana Mladenović
Production company: Kinematograf
Country: Croatia

A spark of life will be awakened in Mahan, a 35-year-old refugee from Bosnia by Una, a 16-year-old girl from Pula, who is intuitively drawn by his dark, mysterious appearance.


SIRIN
Director: Senad Šahmanović
Writer: Claudia Bottino, Senad Šahmanović
Producer: Veliša Popović, Jean-Christophe Barret
Production company: CUT-UP, Alliance de Production Cinématographique
Country: Montenegro, France

"The past is a foreign land, the one who leaves and one who comes back are not the same person anymore."


THIRD KIND
Director: Yorgos Zois
Writer: Yorgos Zois, Yorgos Kozanitas
Producer: Stelios Cotionis, Antigoni Rota
Production company: Foss productions, Squared Square
Country: Greece

Earth has long been abandoned and a privileged part of humanity has found refuge in outer space. But a deadly virus of nostalgia threatens to exterminate their new kind. A mission is sent back to deserted Earth to find the cure


THOSE WHO WHISTLE AFTER DARK
Director: Pinar Yorgancioglu
Writer: Pinar Yorgancioglu, Emre Gulcan
Producer: Sarah Seulki Oh
Production company: Oh Picture Co.
Country: Turkey, United States

A modern Turkish family is faced with an existential crisis when a skeptical angel pays the recently retired head of the family an unexpected visit.


VICTUS
Director: Andrei Tanase
Writer: Andrei Tanase
Producer: Irena Isbasescu, Anamaria Antoci
Production company: Domestic Film
Country: Romania

Deeply affected by the sight of her husband cheating on her with a teenage girl, Vera, a small city zoo veterinarian, decides to spend the night at work, causing the escape of a tiger.


CINELINK DRAMA SELECTION:


548
Creator: Triera Kasumi Berisha, Blerta Zeqiri
Director: Blerta Zeqiri, Lendita Zeqiraj, Izer Aliu
Writer: Keka Kreshnik Berisha, Blerta Zeqiri, Lendita Zeqiraj, Izer Aliu
Producer: Triera Kasumi Berisha, Keka Kreshnik Berisha
Production company: Dynamic L.L.C.
Country: Kosovo

A true story of the Kosovo's best scuba diver, who cannot help but answer the cries of families, by recovering their loved ones' bodies from water during Yugoslavia's fall, war and fragile peace.


THE COUNSELLOR
Creator: Višnja Skorin
Director: Sara Hribar
Writer: Višnja Skorin i Sandra Antolić
Producer: Lado Skorin
Production company: 3D2D Animatori
Country: Croatia

A counsellor at the Centre for Teenage Pregnancy and Mothers battles the state laws and demons from her own past. After a law criminalising abortion is passed, the centre is threatened with closure.


HOME
Creator: Daria Keršić
Director: TBC
Writer: Daria Keršić
Producer: Nebojša Taraba, Miodrag Sila
Production company: Drugi plan
Country: Croatia

Viki has to stay at the children's home when her adoption falls through, and she starts her new high school by making trouble. Luckily, she meets friends who help her through the issues of growing up.


SABRE
Creator: Goran Stanković, Vladimir Tagić
Director: Goran Stanković, Vladimir Tagić
Writer: Goran Stanković, Vladimir Tagić
Additional writer: Maja Pelević
Producer: Snežana van Houwelingen
Production company: This and That Productions
Country: Serbia

A political thriller series based on real events, focusing on a female journalist investigating the murder of the Serbian Prime Minister, in a corrupted justice system.


SNOW
Creator: Michaela Taschek
Director: Barbara Albert, Sandra Wollner
Writer: Michaela Taschek
Producer: Ursula Wolschlager
Production company: Witcraft Filmproduktion
Country: Austria

When the snow is gone, old secrets see the light of day.