News
CineLink announces line-up for Work in Progress 2018
CineLink Work in Progress is a section of the Sarajevo Film Festival's co-production market, which serves as a showcase of the most exciting new works from Southeast Europe and the MENA region. The selection includes 10 exciting new feature-length films: 8 fiction and 2 documentary, which will be presented to up to 60 high-profile industry professionals (funders, sales agents, distributors, broadcasters and festival programmers) with the aim of assisting their completion and enhancing their distribution possibilities.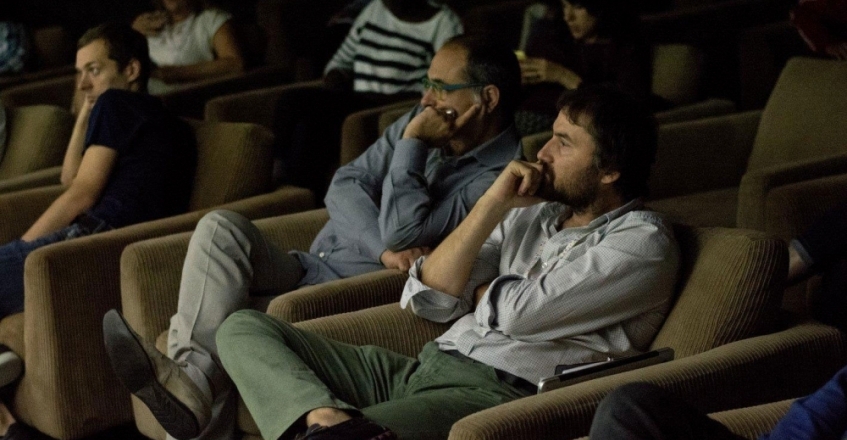 In addition to projects from Bulgaria, Hungary, Israel, Palestine, Romania, and Turkey, CineLink Work in Progress will also host a guest project from China.
"The recent festival success of projects presented at previous editions of Work in Progress, as well as rising attendance of festival programmers, sales representatives, and other industry professionals from every part of the production chain, prove that CineLink continues to play a vital role in disseminating the talent from the SEE region. In addition to boosting its production potential, CineLink also serves as a platform for voices that tackle urgent issues in new and challenging ways," explains Jovan Marjanović, Head of Industry at the Sarajevo Film Festival.
Some selected projects address burning social and political issues with fresh aesthetic approach. These include HILAL, FEZA AND OTHER PLANETS, the new work by award-winning Turkish filmmaker and artist Kutluğ Ataman, and CAT IN THE WALL, a controversial film by Bulgarian directors Mina Mileva and Vesela Kazakova. Both were presented at earlier editions of the CineLink Co-production Market, with CAT IN THE WALL scooping the Arte International Relations award in 2017. The selection also features IBRAHIM by Lina Alabed, which is the first Palestinian project to be presented in the Work in Progress series in quite some time, as well as AFRICA, the debut feature by Oren Gerner, whose short film GABRIEL competed this year for the Palme d'Or at the Festival de Cannes. Selected Romanian projects inject fresh ideas into contemporary Romanian cinema, and mark further distancing from the recognisable style of the Romanian New Wave.
Projects compete for three awards: the Post Republic Award (€50,000, in kind), the CineLink Iridium Award (€20,000, in kind) and the Turkish National Radio Television Award (€25,000, cash). Kim Yutani (Sundance Film Festival), Marco Mueller (Pingyao Crouching Tiger Hidden Dragon International Film Festival), Tolke Palm (The Post Republic), Gabor Greiner (Films Boutique), and a Turkish National Radio Television representative will decide this year's winners.
The complete list of selected projects can be found below.
CineLink Work in Progress serves as an important springboard for various projects. Last year's selections ÀGA by Milko Lazarov, HORIZON by Tinatin Kajrishvili, and WHAT COMES AROUND by Reem Saleh were screened to great critical acclaim in various sections of the Berlin International Film Festival (Official Selection – Out of Competition, Panorama, and Panorama Dokumente, respectively). Bobo Jelčić's ALL ALONE, which was also presented as a work in progress in 2017, will have its world premiere in this year's Sarajevo Film Festival feature film competition, while ÀGA and HORIZON will have their regional premiere screenings in the same section.
Among many others, previous Work in Progress projects include GODLESS by Ralitza Petrova (Golden Leopard winner, Locarno Festival 2016), TOTO AND HIS SISTERS by Alexander Nanau (Silver Eye Award for Best Documentary Feature, Jihlava International Documentary Film Festival 2014), WHITE SHADOW by Noaz Deshe (Lion of the Future, Venice Film Festival 2013), HARMONY LESSONS by Emir Baigazin (Silver Bear, Berlinale 2013), MOLD by Ali Aydın (Lion of the Future, Venice Film Festival 2012), and IF I WANT TO WHISTLE I WHISTLE by Florin Șerban (Jury Grand Prix Silver Bear and Alfred Bauer Prize, Berlinale 2010).
AFRICA
(fiction)
Director: Oren Gerner
Producer: Itay Akirav
Production company: Film Harbour
Israel
Meir (68), a former engineer and retiree, discovers that he has not been asked to plan the traditional village ceremony like he did for the past 30 years, since his job was transferred to the local youth. While his health is in decline, Meir goes out on a silent but powerful journey to reconstruct his shaken manhood.
BELONGING
(fiction)
Director: Burak Çevik
Producer: Selman Nacar
Production company: Fol Film
Turkey, France
Belonging makes a topographic observation 15 years later by following the locations of a criminal case, accompanied by statements given by the suspects at the police station. Then, it shows the night that the murderer couple met.
CAT IN THE WALL
(fiction)
Directors: Mina Mileva, Vesela Kazakova
Producers: Mina Mileva, Vesela Kazakova
Production company: Activsit38
Co-produced by: Glasshead Limited (UK), Ici et Là Productions (FR), Bulgarian National Television (BG)
Bulgaria, UK
A Bulgarian single mother aspires to make it as an architect in Britain while working as a waitress. Her clash with reality becomes increasingly more bizarre when she takes the neighbours' cat home.
HILAL, FEZA AND OTHER PLANETS
(fiction)
Director: Kutluğ Ataman
Producers: Sercan Tevs, Kutluğ Ataman
Production company: WITCH
Turkey
As a first year university student, Hilal arrives in Istanbul to learn she cannot set foot on campus wearing her head scarf. Meanwhile, her new neighbor Feza (19) has escaped being bullied for who he was. The two become friends.
IBRAHIM
(documentary)
Director: Lina Alabed
Producer: Rami El Nihawi
Production company: SakaDo
Co-produced by: Kirstine Barfod Film
Palestine, Lebanon, Qatar, Denmark
Ibrahim, my father, was a secret member of the Palestinian Militant Organization "Revolutionary Council" (Abu-Nidal), which was known for its notorious and suspicious intelligence affairs. In 1987 we were living in Damascus. I was 6 years old when Ibrahim left for few days on a regular mission, but never came back.
LEGACY
(fiction)
Director: Dorian Boguță
Producer: Oana Giurgiu
Production company: Hai Hui Entertainment
Romania
Following the disappearance of Anton, police research will reveal the complexity of his life and strange family relationships. Finding out he's having a serious disease, Anton decides to "help" Ana, his sister, to have a baby. Anton's obsession to play with destiny leads to reckless actions and unexpected end.
THE MOTHERLANDS
(documentary)
Director: Gabriel Babsi
Producers: Ágnes Horváth-Szabó, András Pires Muhi
Production company: ELF Pictures
Co-produced by: Domestic Film (RO)
Hungary, Romania
Across continents and moral principles, The Motherlands is a journey of six years dealing with the problem of losing and rebuilding identity while searching for a better life.
THE GOSPEL ACCORDING TO MY FATHER
(fiction)
Director: Dani Rosenberg
Producers: Stav Meron, Dani Rosenberg
Production company: Pardes Films
Israel
Although Tel Aviv burns to the ground at the end of the fictional film Asaf tried to make with his father, his father real world does not end with a bang, but with a slow fading crumble.
ZAVERA
(fiction)
Director: Andrei Gruzsniczki
Producer: Alexandru Teodorescu
Production company: Saga Film
Romania
After the suspicious death of his best friend, Stefan, a fifty-year-old businessman man, uncovers the unknown part of their relationship and has to come to terms with his new life.
Guest project
THE PIG BUTCHER
(fiction)
Director: Wang Yi-Tong
Producer: Jia Zhang-ke
Production company: Fabula Entertainment
China


Shotgun falls from the hands of the rich, and the children of the poor pick up. The bullet shot through the chest of a dog, into the buttocks of the mistress. The savage dies in a dream and the savage escapes through the mountains.