News
CineLink Co-Production Market unveils second round of projects
Sarajevo Film Festival announces the second round of film projects in development selected to participate in its well-established annual CineLink Co-Production Market. Seven titles finalise the roster with projects from established directors from Southeast Europe whose projects are in the advanced stages of development and financing and will be joined by two guest projects.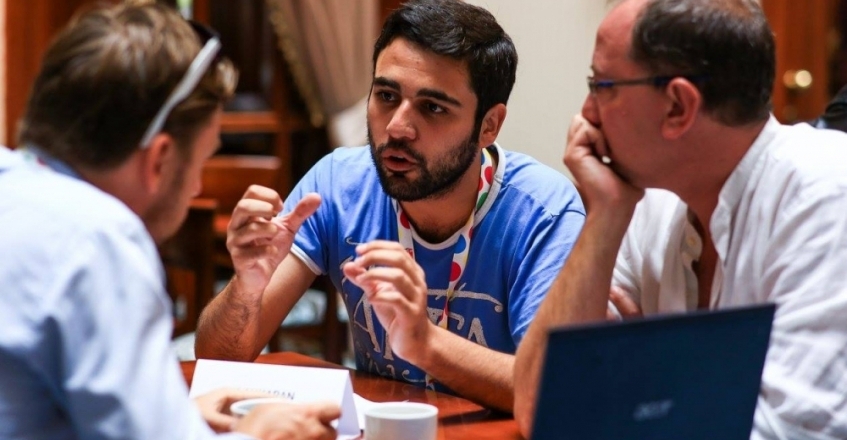 The new line-up complements the
8 projects
in early development, by first-and second-time filmmakers, who took part in the CineLink Project Development Workshop in April this year. All selected projects will participate in CineLink Industry Days throughout the Sarajevo Film Festival from August 11 to 16.
Amra Bakšić Čamo the Head of CineLink said: "The selection brings a variety of narratives and artistic approaches, while a healthy balance of established names and exciting new talent promise a lively market in August."
A Cup of Coffee and New Shoes On
Director: Gentian Koçi
Writer: Gentian Koçi
Producer: Gentian Koçi, Blerina Hankollari
Production company: ARTALB FILM
Co-production company: Graal Films
Albania, Greece
Two identical inseparable deaf-mute twin brothers in their forties, discover that due to a genetic disease, they will separately, but progressively and irreversibly go blind. Slowly immersing into an unbearable silenced darkness, not being able to see the world and each other anymore, the two brothers have to make a strong decision.
The Celts
Director: Milica Tomović
Writer: Milica Tomović
Producer: Vladimir Vasiljević
Production company: EED Productions
Co-production company: Meander
Serbia, Montenegro
In the middle of the country's breakup, three generations, equally hilarious and deranged, attend a child's costume birthday party.
Erasing Frank
Director: Gabor Fabricius
Writer: Gabor Fabricius, György Barathy
Producer: Gabor Ferenczy, Gabor Fabricius, András Muhi
Production company: Focusfox, Otherside Stories
Hungary
1983: Frank, an angry kid from the streets with "no future". With his punk band he realizes that the state banned their music because their words are political. Frank escapes to a psychiatric ward where Hanna, a young enemy of the system, joins him. Medication mutes Frank, but words of freedom are louder.
The Island Within
Director: Ru Hasanov
Writer: Ru Hasanov
Producer: Orkhan Tarverdizade,
Production company: Coyote Cinema
Co-production company: Arizona Productions
Azerbaijan, France
Vitaly Pronin lives on the island of Kur Dili on the Azerbaijani-Iranian border, alone, with no electricity or running water. It used to be a prosperous Soviet animal farm up until the Caspian Sea rose and destroyed the bridge connecting it to the mainland. Vitaly, now 67 years of age, enjoys the dusk of his life on the island with thousands of feral horses until his solitude is interrupted by Seymour, an emotionally and physically abused international chess grandmaster. Based on a true story.
May Labour Day
Director: Pjer Žalica
Writer: Pjer Žalica
Producer: Pjer Žalica, Aida Huseinović,
Production company: FORUM Association for Art and Culture
Co-Production: Propeler Film, A.S.A.P. Films, Staragara, Bascelik, Artikulacija Film
Bosnia and Herzegovina, Croatia, France, Slovenia, Serbia, Montenegro
Armin returns to his hometown where he is taken on a quest where truth liberates but at the same time binds and hurts.
Natural Light
Director: Dénes Nagy
Writer: Dénes Nagy
Producer: Marcell Gerő, Sára László
Production company: Campfilm
Co-production company: Novak Prod, Mistrus Media
Hungary, Belgium, Latvia
March 1943. A Hungarian soldier is sent on a mission where he witnesses a mass murder. NATURAL LIGHT is about making decisions in a morally ambiguous world.
Orchestra
Director: Matevž Luzar
Writer: Matevž Luzar
Producer: Petra Vidmar
Production company: Gustav Film
Slovenia
Events on wind orchestra tour should change band members lives, but they decide to sweep them under the rug.
GUEST PROJECTS:
Streams
Director: Mehdi Hmili
Writer: Mehdi Hmili
Producer: Moufida Fedhila
Production company: Yol Film House
Co-production company: MPM Film, Tarantula Productions
Tunisia, France, Luxembourg/Belgium
Amel is released from prison after an adulterous affair. In the violent streets of Tunis, she seeks for her missing son.
The Enchanted Wanderer
Director: Babak Payami
Writer: Babak Payami
Producer: Hussain Amarshi, Charles Wachsberg
Production company: Payam Films Inc.
Country: Canada
It takes the Bolshevik revolution, Nazi takeover of Germany and Fascism in Italy to transform the young Azeri Jewish boy, Lev Nussimbaum into Essad Bey, the famous writer who understood nothing from love.