News
CineLink Co-Production Market Unveils Second Round of Selection
Sarajevo Film Festival's Co-Production Market runs from 14 to 17 August.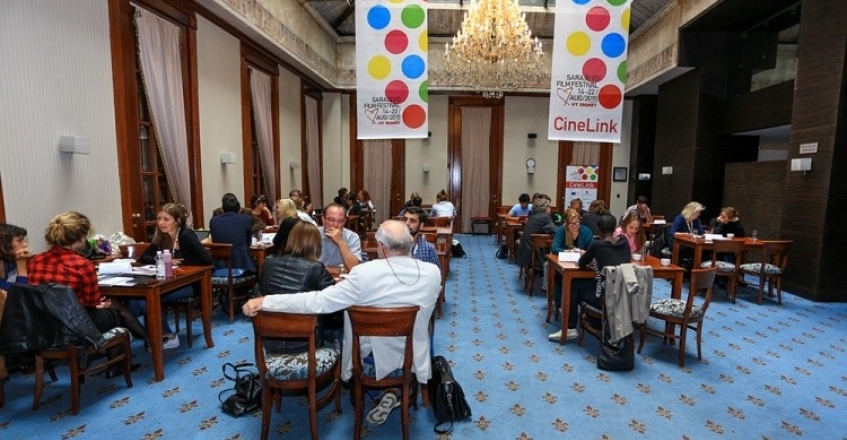 Today, the Sarajevo Film Festival announces the completion of the second round of selection of film projects in development that will participate this year in its well-established annual CineLink Co-Production Market. Seven titles finalise the roster with projects from established directors from Southeast Europe whose projects are in the advanced stages of development and financing.

The new batch of titles complements the first selection, announced in April, of seven film projects in the early development phase by first- and second-time filmmakers from the region. All selected projects will participate in CineLink Industry Days throughout the Sarajevo Film Festival from 12 to 17 August.

Amra Bakšić Čamo, Head of CineLink, said: "It is a great pleasure to see this year's CineLink programme taking shape. Over the two phases of selection, we have encountered numerous projects that feature relevant narratives, and are expressions of brave voices and the variety of work going in in the regional film industry."

CineLink Co-Production Market 2017


SNOW WHITE DIES AT THE END
Writer and Director: Kristijan Risteski
Producer: Kristijan Risteski, Jovica Panovski
Production company: Vertigo Visual
Macedonia
Kristijan Risteski's directing and producing credits include five feature-length, two medium-length and six short filmss, as well as two television series.

THE USERS
Writer and Director: Ivan Ikić
Producer: Milan Stojanović
Production company: SENSE production
Serbia
Ivan Ikić's debut film BARBARIANS won a Special Jury Prize in the East of the West programme at the Karlovy Vary Film Festival, the Seyfi Teoman Award at the European Film Festival Palić and the Best Film Award at Crossing Europe Linz, and was screened at more than 30 international film festivals.

NIGHT
Writer and Director: Gabriel Achim
Producer: Anca Puiu
Production company: Mandragora
Romania
Gabriel Achim wrote, produced and directed several short films that have been screened and won awards at national and international film festivals. His most recent feature film, THE LAST DAY, had its premiere at the 2016 Transylvania International Film Festival in Cluj.

HALF-SISTER
Director: Damjan Kozole
Writers: Damjan Kozole, Urša Menart
Producer: Danijel Hočevar
Production company: Vertigo
Slovenia
Damjan Kozole is a distinguished Slovenian filmmaker whose directing credits include the critically acclaimed SPARE PARTS (2003) and SLOVENIAN GIRL (2009), which was released worldwide, among others. SPARE PARTS was nominated for the Golden Bear at the Berlin International Film Festival. NIGHTLIFE, Kozole's ninth feature, had its premiere in the Official Competition of the Karlovy Vary International Film Festival in 2016, where it won the Best Director Award. He is also the respected author of numerous documentary films.

THE PASS
Directors: Siddiq Barmak, George Ovashvili
Writers: Siddiq Barmak, Guram Odisharia
Producer: George Ovashvili
Production company: Wagonnet, Arizona Productions
Georgia, France
Siddiq Barmak is a film director from Afghanistan. His debut feature film, OSAMA, won the Golden Globe for Best Foreign Language Film in 2004 after screening at the Cannes Film Festival. Barmak made his second feature-length film, OPIUM WAR, in 2008.
George Ovashvili is a Georgian director, writer and producer. His first feature-length film, THE OTHER BANK, premiered at the Berlin International Film Festival in the Generations section in 2009, and won more than 50 international prizes. His second feature, CORN ISLAND, won the Crystal Globe at the Karlovy Vary International Film Festival in 2014, and was shortlisted for the Academy Aware for Best Foreign Language Film in 2015.

THE GREAT TRAM ROBBERY
Director: Slobodan Šijan
Writers: Slobodan Šijan, Biljana Maksić, Vladimir Mančić
Producer: Marko Paljić
Production company: Gargantua Films
Serbia
Slobodan Šijan is a film director, writer and a visual artist. He is the author of numerous experimental films and video works, and of several very popular Serbian feature-length films, as well as of a number of publications and books about film and visual culture. In 1996, the Academy of Film Art and Science pronounced his 1980 film WHO'S SINGIN' OVER THERE? (1980) the best Yugoslav film made in the last 50 years.


YOUR EYES
Director: Konstantin Bojanov
Writers: Konstantin Bojanov, Buku Sarkar
Producers: Frederic Corvez, Konstantin Bojanov, Palmyre A. Badinier
Production companies: Urban Factory, Argentum Lux Films
Bulgaria, France, India
Konstantin Bojanov is a filmmaker and a visual artist. His first feature film AVÉ, had its premiere in 2011 as a Critics' Week selection at the Cannes Film Festival, and went on to win numerous awards. It was distributed theatrically and broadcast throughout Europe and South America. His latest film, LIGHT THEREAFTER (2017) was premiered at the International Film Festival Rotterdam this year.

The full list of projects selected for the CineLink Co-Production Market is available HERE.