News
Open Air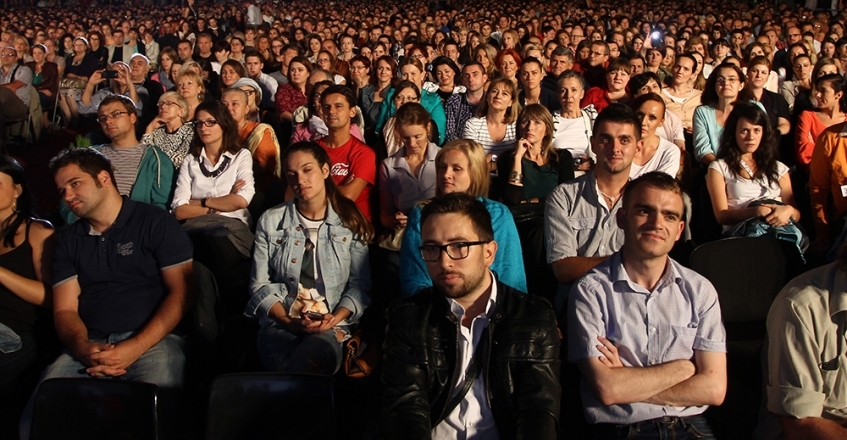 FRIDAY, 12TH AUGUST

SURPRISE FILM


---

SATURDAY, 13TH AUGUST

FLORENCE FOSTER JENKINS
United Kingdom, 2016, 110 min.
Director: Stephen Frears
Cast: Rebecca Ferguson, Meryl Streep, Hugh Grant, Simon Helberg, Neve Gachev, Nina Arianda, John Kavanagh

The true story of Florence Foster Jenkins (Meryl Streep), a New York heiress who dreamed of becoming an opera singer, despite having a terrible singing voice. Jenkins used her connections, power and wealth to get attention as a singer. Hugh Grant plays the role of her partner and manager St. Claire Bayfield. Simon Helberg, known by many from The Big Bang Theory, will be accompanying her on the piano during her performances.

GUEST: Director Stephen Frears


---
SUNDAY, 14TH AUGUST

LOVE & FRIENDSHIP
Ireland, Netherlands, France, USA, United Kingdom, 2016, 92 min.
Director: Whit Stillman
Cast: Kate Beckinsale, Tom Bennett, Chloë Sevigny, Xavier Samuel, Emma Greenwell, Stephen Fry, James Fleet, Jemma Redgrave, Justin Edwards, Jenn Murray

Beautiful young widow Lady Susan Vernon visits the estate of her in-laws to wait out the colourful rumours about her dalliances circulating through polite society. Whilst ensconced there, she decides to secure a husband for herself and a future for her eligible but reluctant daughter, Frederica.

Guests: Director Whit Stillman and Actor Tom Bennett


---
MONDAY, 15TH AUGUST

JULIETA
Spain, 2016, 96 min.
Director: Pedro Almodóvar
Cast: Emma Suárez, Adriana Ugarte, Daniel Grao, Inma Cuesta, Michelle Jenner, Darío Grandinetti, Rossy de Palma

Julieta is a middle aged woman living in Madrid with her boyfriend Lorenzo. The two are about to move to Portugal when Julieta has a casual encounter with Bea, her daughter Antia's former best friend. Bea tells her that Antia is married with three children and has been living in Switzerland with her family. Heartbroken after 12 years of not having any contact with her daughter, Julieta cancels the journey to Portugal and moves back to her old building in hope that one day Antia might communicate with her, at last by sending her a letter.


---
TUESDAY, 16TH AUGUST

I, DANIEL BLAKE
United Kingdom, France, Belgium, 2016, 100 min.
Director: Ken Loach
Cast: Dave Johns, Hayley Squires, Dylan McKiernan, Briana Shann, Kate Rutter, Sharon Percy, Kema Sikazwe

Daniel Blake (59) has worked as a joiner most of his life in Newcastle. Now, for the first time ever, he needs help from the State. He crosses paths with single mother Katie and her two young children, Daisy and Dylan. Katie's only chance to escape a one-roomed homeless hostel in London has been to accept a flat in a city she doesn't know, some 300 miles away. Daniel and Katie find themselves in no-man's land, caught on the barbed wire of welfare bureaucracy as played out against the rhetoric of 'striver and skiver' in modern-day Britain.

GUEST: Actor Dave Johns


---
WEDNESDAY 17TH AUGUST

CAPTAIN FANTASTIC
USA, 2016, 120 min.
Director: Matt Ross
Cast: Viggo Mortensen, George Mackay, Samantha Isler, Annalise Basso, Nicholas Hamilton, Shree Crooks, Charlie Shotwell

Deep in the forests of the Pacific Northwest, isolated from society, a devoted father (Viggo Mortensen) dedicates his life to transforming his six young children into extraordinary adults. But when a tragedy strikes the family, they are forced to leave this self-created paradise and begin a journey into the outside world that challenges his idea of what it means to be a parent and brings into question everything he's taught them.


---
THURSDAY, 18TH AUGUST

A GOOD WIFE / DOBRA ŽENA
Serbia, Bosnia and Herzegovina, Croatia, 2016, 94 min.
Director: Mirjana Karanović
Cast: Mirjana Karanović, Boris Isaković, Jasna Đuričić, Bojan Navojec, Ksenija Marinković, Vlado Kerošević, Ermin Bravo

When 50-year-old Milena finds out about the terrible past of her seemingly ideal husband, while simultaneously learning of her own cancer diagnosis, she begins an awakening from the suburban paradise she has been living in.

GUESTS: Director Mirjana Karanović and film crew


---
FRIDAY, 19TH AUGUST

A CONSPIRACY OF FAITH / FLASKEPOST FRA P
Denmark, Germany, Sweden, Norway, 2016, 112 min.
Director: Hans Petter Moland
Cast: Nikolaj Lie Kaas, Fares Fares, Pål Sverre Hagen, Jacob Lohmann, Amanda Collin, Johanne Louise Schmidt

An old note is found in a bottle in Jutland which has traveled very long across the ocean a long time ago. The note is hard to decipher, but when the Danish investigator from Section Q receives it, the odd personalities within the section find a new angle on it and try to unveil yet another old and diabolic case even though the lead is cold.

GUEST: Director Hans Petter Moland


---
SATURDAY, 20TH AUGUST

FRENCH TOUR / TOUR DE FRANCE
France, 2016, 95 min.
Director: Rachid Djaïdani
Cast: Gérard Depardieu, Sadek, Louise Grinberg, Nicolas Marétheu, Mabô Kouyaté, Alain Pronnier, Raounaki Chaudron

Far'Hook is a young 20-year old rapper. Following a settlement account , he is obliged to leave Paris for a while. His producer, Bilal, asks him to take his place and to accompany his father Serge tour the ports of France, following the footsteps of painter Joseph Vernet . Despite the clash of generations and cultures, an unlikely friendship will develop between this promising rapper and bricklayer from northern France during a journey that will take them to Marseille for a final concert, that of reconciliation.

GUESTS: Director Rachid Djaïdani and Actor Sadek