News
Honorary Heart of Sarajevo: Wolfgang Amadeus Brülhart
Wolfgang Amadeus Brülhart recieved the Honorary Heart of Sarajevo Award at the Human Rights Day in recognition of his contribution and support to Obala Art Centar, and the initiative to build the Meeting Point cultural center, which is recognized today as Sarajevo Film Festival's main cinema and meeting point.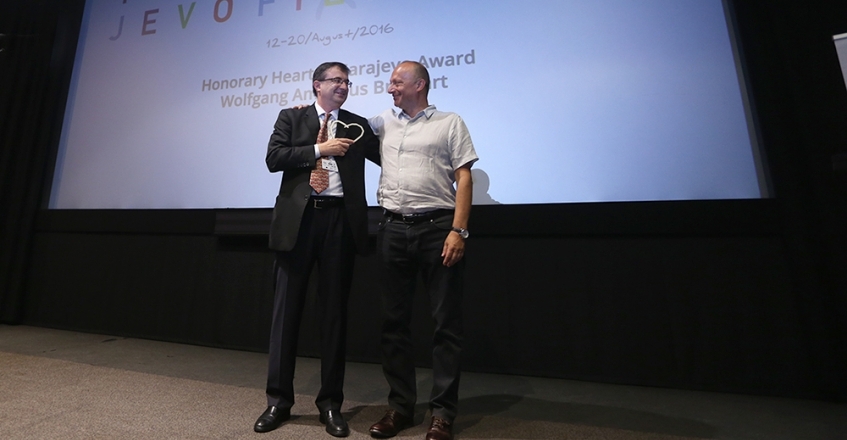 In his capacity as the Deputy Chief of Mission and Cultural Counselor at the Embassy of Switzerland in Bosnia and Herzegovina in the 1996-98 period, Brülhart was one of the initiators of the revival of the cultural scene in Sarajevo. During that period, Switzerland donated nearly 100 million Swiss francs for reconstruction and development of Bosnia and Herzegovina, including nearly 2 million Swiss francs donated for culture or specifically for reconstruction of cultural institutions, promotion of cultural exchange in Bosnia and Herzegovina and former Yugoslavia and promotion of cultural exchange between Bosnia and Herzegovina and Switzerland.
Brülhart recognized the importance of reviving the spirit of culture for the healing of the war-thorn city and had therefore initiated numerous cultural project and programs for exchange and meetings of B&H and Swiss artists, as well as numerous music concerts and theater performances. He was also one of the initiators of the construction of the Meeting Point as a culture center and a meeting place of artists in Sarajevo which now also serves as the official cinema of the Sarajevo Film Festival.
As the result of his efforts, the initial funds had been provided at the time for the construction of the Meeting Point.
He is a career member of the Swiss Foreign Ministry who held different diplomatic positions abroad. After his assignment in Sarajevo, Brülhart served as the Cultural Counselor and the Head of Cultural Section at the Swiss Embassy in London (1999-2000) where he specifically focused on CulturalProgramme 2000:Creative Switzerland 2000:Dialogue Between Cultures program.
He was the Head of the Human Rights Policy Section and the Head of the "Human Rights Council" Task Force at the Swiss Foreign Ministry in Bern from 2003 to 2007, before being appointed to the post of Swiss Ambassador to the United Arab Emirates. In 2008, he was appointed to his current post of the Head of the Middle East and North Africa Divisions at the Swiss Foreign Ministry in Bern.